Ad blocker interference detected!
Wikia is a free-to-use site that makes money from advertising. We have a modified experience for viewers using ad blockers

Wikia is not accessible if you've made further modifications. Remove the custom ad blocker rule(s) and the page will load as expected.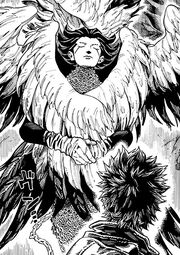 Abdiel (アブドゥエル or アブディエル) is a demon in the series.
Abdiel is a biblical name used by several fictional and real people. Nevertheless Abdiel is better known for being a Seraph in John Milton`s Paradise Lost. In this novel he is the one that denounces Satan for the revolt against God and abandons Lucifer to tell God about his defection. However when he arrives, he realizes that preparations were already underway for battle. In the fight he smites Satan, Ariel, Ramiel and Arioch, among others.
Appearances
Edit
Shin Megami Tensei IV DEMONIC GENEEdit
Abdiel is an angel servant of Mastema, who reveals to Walter the truth of Gina's origins of a successful human made from the genes of demons, while Yuriko is the failed product of the experiment.
Giten Megami Tensei: Tokyo MokushirokuEdit
| CP | Intuition | Will Power | Magic | Intelligence | Divine Protection |
| --- | --- | --- | --- | --- | --- |
| 53 | 32 | 32 | 38 | 24 | 30 |

| Strength | Stamina | Agility | Dexterity | Charm |
| --- | --- | --- | --- | --- |
| 46 | 45 | 41 | 19 | 50 |