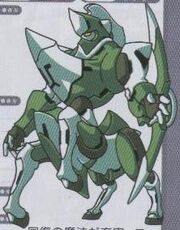 Adnachiel (アドナキエル, Adonakieru) is a demon in the series.
Adnachiel is the angel of the month November, and rules over the Sagittarius Zodiac sign. Along with Phaleg, he rules over the choir of angels, is a regent of the Seraphim, and is considered to be the angel of independence and guidance, along with having control over the four major elements (Fire, Water, Earth and Air).
Adnachiel actively helps the Sagittarians open the door to the spiritual light of the soul. If he is called upon and asked for any assistance, he will help and guide them to what they want to do. If guidance is needed he will be their to aid them.
Appearances
Edit
DemiKids: Light & DarkEdit
"A demon who turned from good to evil. Currently rules over the House of Sagittarius."
Known as Irontaur, he can perform the combo skill Earth Hammer with the aid of Leprak. Irontaurs appear as foot soldiers of the Imperium during the game.
Devil Children Fire & Ice BookEdit
Adnachiel is sent by Enoch to assassinate Michael, Akira interrupts Adnachiel before he could and battles him. Adnachiel is joined by two Aniel's in battle. After the battle Adnachiel says the war cannot be stopped, revealing his true form before disappearing.
Devil Children Light & DarkEdit
Adnachiel appeared in episode 34 as the leader of a squad of Bishamonten of the Imperium, where he reveals Drail has betrayed the resistance and gives him the item the Devil Children retrieved from the cave. He manifests arrows of light to use with his bow.
DemiKids: Light & DarkEdit
| Class | Element | Type | Exp | Level | HP | MP |
| --- | --- | --- | --- | --- | --- | --- |
| Elite | Earth | Holy | | 16 | 174 | 72 |

| ATK | DEF | MGC | RES | SPD | LCK |
| --- | --- | --- | --- | --- | --- |
| 14 | 13 | 14 | 12 | 15 | 14 |
List of Skills

Skill
Element
Cost
Effect
Ram
Earth
15 HP
Small dmg. 1 Foe
Petra
Earth
5 MP
Small dmg. 1 Foe
Heal All
Light
12 MP
Minor HP recovery. Party
Glow
Light
10 MP
Small dmg. 1 Foe
Healmor
Light
10 MP
Minor HP recovery. 1 Ally
Petradeus
Earth
8 MP
Small dmg. 2 Foes
Devil Children Fire/Ice BookEdit
| Class | Element | Type | Exp | Level | HP | MP |
| --- | --- | --- | --- | --- | --- | --- |
| Elite | Earth | Holy | | 16 | 174 | 72 |

| ATK | DEF | MGC | RES | SPD | LCK |
| --- | --- | --- | --- | --- | --- |
| 14 | 13 | 14 | 12 | 15 | 14 |