Ad blocker interference detected!
Wikia is a free-to-use site that makes money from advertising. We have a modified experience for viewers using ad blockers

Wikia is not accessible if you've made further modifications. Remove the custom ad blocker rule(s) and the page will load as expected.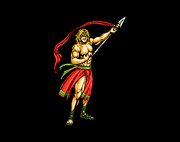 Adonis (アドニス) is a demon in the series.
Adonis was the Greek god of beauty and desire. Nevertheless his origins are Semitic and is maybe based off the deity Tammuz. His myth says that Aphrodite sheltered the baby Adonis and entrusted him to Persephone. Persephone fell in love with him and refused to give him back and the two goddesses started a dispute, only to be ceased by Zeus, who decided that the baby would be with each goddess one third of a year and the final third with the one he chose.
A boar would eventually kill him and Aphrodite would sprinkle his blood with nectar from which the anemone flower bloomed.
Appearances
Edit
Giten Megami Tensei: Tokyo MokushirokuEdit
| CP | Intuition | Will Power | Magic | Intelligence | Divine Protection |
| --- | --- | --- | --- | --- | --- |
| 62 | 28 | 42 | 34 | 29 | 12 |

| Strength | Stamina | Agility | Dexterity | Charm |
| --- | --- | --- | --- | --- |
| 43 | 38 | 36 | 20 | 21 |
| CP | Intuition | Will Power | Magic | Intelligence | Divine Protection |
| --- | --- | --- | --- | --- | --- |
| 30 | 16 | 22 | 18 | 17 | 7 |

| Strength | Stamina | Agility | Dexterity | Charm |
| --- | --- | --- | --- | --- |
| 21 | 19 | 20 | 11 | 16 |
| CP | Intuition | Will Power | Magic | Intelligence | Divine Protection |
| --- | --- | --- | --- | --- | --- |
| 27 | 16 | 21 | 17 | 16 | 6 |

| Strength | Stamina | Agility | Dexterity | Charm |
| --- | --- | --- | --- | --- |
| 20 | 18 | 18 | 10 | 15 |
List of Skills

One Spear
Cleave
Double Attack
Tsubame Gaeshi
Zionga
Kabutowari
| CP | Intuition | Will Power | Magic | Intelligence | Divine Protection |
| --- | --- | --- | --- | --- | --- |
| 26 | 15 | 20 | 16 | 15 | 6 |

| Strength | Stamina | Agility | Dexterity | Charm |
| --- | --- | --- | --- | --- |
| 19 | 17 | 18 | 10 | 14 |
List of Skills

Stab
Cleave
One Spear
Double-edge cut
Zionga
Double Attack