Ad blocker interference detected!
Wikia is a free-to-use site that makes money from advertising. We have a modified experience for viewers using ad blockers

Wikia is not accessible if you've made further modifications. Remove the custom ad blocker rule(s) and the page will load as expected.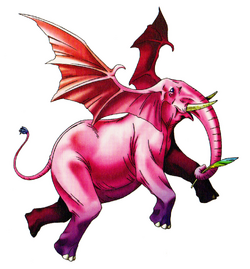 Aerophant (アエロファンテ, Aerofante) is a demon in the series.
The Aerophant is based on a fictional creature in the 1987 Spanish art book Fauna, featuring photographs of supposedly real, newly discovered creatures and written by a fictional German Zoologist Peter Ameisenhaufen.
The Aerophant's depiction of holding a feather in its trunk is most likely a reference to Dumbo, the 1941 Walt Disney animated film about a big-eared baby elephant who learns to fly after being encouraged by crows giving him a "magic feather" that boosts his confidence.
Appearances
Edit
Devil Children Fire/Ice BookEdit
Aerophant is one of the demons given as a prize for beating Eligor's quiz in Fire Book.
Shin Megami Tensei: Devil SummonerEdit
| Race | Level | HP | MP | CP | NOA |
| --- | --- | --- | --- | --- | --- |
| UMA | 35 | 254 | 93 | 33 | 0-1 |

| Strength | Intelligence | Magic | Endurance | Agility | Luck |
| --- | --- | --- | --- | --- | --- |
| 10 | 7 | 5 | 16 | 16 | 5 |
| Personality | Phys Attack | Phys Hit | Base Defense | Avoid | Mgc Attack | Mgc Defense |
| --- | --- | --- | --- | --- | --- | --- |
| Mild | 90 | 71 | 102 | 70 | 13 | 33 |
Devil Children Fire/Ice BookEdit
| Class | Element | Type | Exp | Level | HP | MP |
| --- | --- | --- | --- | --- | --- | --- |
| Elite | Ice | Alternate | | 28 | 290 | 142 |

| ATK | DEF | MGC | RES | SPD | LCK |
| --- | --- | --- | --- | --- | --- |
| 23 | 20 | 26 | 23 | 22 | 24 |