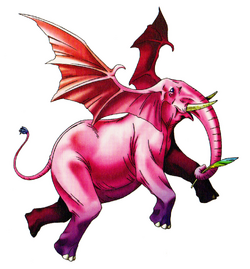 Aerophant (アエロファンテ, Aerofante) is a demon in the series.
The Aerophant is based on a fictional creature in the 1987 Spanish art book Fauna, featuring photographs of supposedly real, newly discovered creatures and written by a fictional German Zoologist Peter Ameisenhaufen.
The Aerophant's depiction of holding a feather in its trunk is most likely a reference to Dumbo, the 1941 Walt Disney animated film about a big-eared baby elephant who learns to fly after being encouraged by crows giving him a "magic feather" that boosts his confidence.
Appearances
Edit
Devil Children Fire/Ice BookEdit
Aerophant is one of the demons given as a prize for beating Eligor's quiz in Fire Book.
Shin Megami Tensei: Devil SummonerEdit
| Race | Level | HP | MP | CP | NOA |
| --- | --- | --- | --- | --- | --- |
| UMA | 35 | 254 | 93 | 33 | 0-1 |

| Strength | Intelligence | Magic | Endurance | Agility | Luck |
| --- | --- | --- | --- | --- | --- |
| 10 | 7 | 5 | 16 | 16 | 5 |
| Personality | Phys Attack | Phys Hit | Base Defense | Avoid | Mgc Attack | Mgc Defense |
| --- | --- | --- | --- | --- | --- | --- |
| Mild | 90 | 71 | 102 | 70 | 13 | 33 |
Devil Children Fire/Ice BookEdit
| Class | Element | Type | Exp | Level | HP | MP |
| --- | --- | --- | --- | --- | --- | --- |
| Elite | Ice | Alternate | | 28 | 290 | 142 |

| ATK | DEF | MGC | RES | SPD | LCK |
| --- | --- | --- | --- | --- | --- |
| 23 | 20 | 26 | 23 | 22 | 24 |