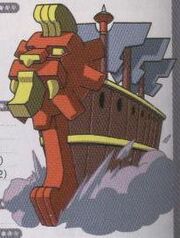 Aker (アケル, Akeru) is a demon in the series.
The god of the horizon, twilight, and dawn from extremely early Egyptian mythology.
Appearances
Edit
DemiKids Light/Dark VersionEdit
"More boat than demon, this creature has traveled to the four corners of the world."
Known as Akerr in the game, he has the power FireHoard.
DemiKids: Light/Dark VersionEdit
| Class | Element | Type | Exp | Level | HP | MP |
| --- | --- | --- | --- | --- | --- | --- |
| General | Fire | Ghost | 612 | 38 | 407 | 152 |

| ATK | DEF | MGC | RES | SPD | LCK |
| --- | --- | --- | --- | --- | --- |
| 37 | 34 | 34 | 35 | 31 | 30 |
List of Skills

Skill
Element
Cost
Effect
Charge
Earth
15 HP
Medium dmg +Self dmg. 1 Foe
Hex Comadeus
Dark
20 MP
Medium dmg +Faint. 2 Foes
Chomp
Dark
10 HP
No DEF Medium dmg. 1 Foe
Venom Claw
Dark
10 HP
Small dmg +Poison. 1 Foe
Darkfire
Fire
32 HP
Medium dmg. 1 Foe
Blur
Dark
5 MP
ACC Down. Foes
Devil Children Fire/Ice BookEdit
| Class | Element | Type | Exp | Level | HP | MP |
| --- | --- | --- | --- | --- | --- | --- |
| General | Fire | Ghost | 612 | 38 | 407 | 152 |

| ATK | DEF | MGC | RES | SPD | LCK |
| --- | --- | --- | --- | --- | --- |
| 37 | 34 | 34 | 35 | 31 | 30 |
List of Skills

Totsugeki
Mudoon
Marukajiri
Poison Scratch
Yami no Honoo
Sukunda