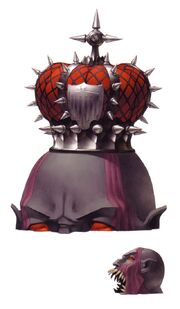 Alciel (アルシエル, Arushieru) or Aciel is a demon in the series.
Alciel is believed to be the lowest level of Hell according to Chaldean myth, comparable to the Jewish concept of Gehenna. Similarly, it could be associated with Abaddon.
Appearances
Edit
Shin Megami Tensei III: NocturneEdit
"According to the mystic Cornelius Agrippa, he is the prince of 'Gehenna', one of the seven levels of hell. His name means 'the sun of night'. He is commonly seen as one and the same with Abaddon and Satan."
—Shin Megami Tensei III: Nocturne Compendium
Alciel can be obtained by evolving Abaddon. However, he must be defeated as a Boss in the Black Temple section of the Amala Temple first before obtaining him through transformation.
Shin Megami Tensei: Strange JourneyEdit
"

The "Black Sun" who lives in the underworld in Babylonian lore. His original name is Aciel, which the Jews borrowed from a Babylonian god, and called him the "King of Gehenna." But in some Asian faiths, all things are reborn only in darkness, so Alciel is not all bad.

"
—Shin Megami Tensei: Strange Journey Compendium
Shin Megami Tensei IVEdit
Alciel is the creator of the Domain at the Kabuto Shrine in the Ginza region. Defeating him earns the relic Kusanagi Tsurugi, one of the Three Sacred Treasures.
Shin Megami Tensei III: NocturneEdit
| Level | Race | HP | MP | STR | MGC | VIT | AGL | LCK |
| --- | --- | --- | --- | --- | --- | --- | --- | --- |
|   | Tyrant | 8000 | 2000 | | | | | |
| Strong | Void | Drains | Repels | Weak |
| --- | --- | --- | --- | --- |
| Fire/Ice/Elec/Force/Phys | Expel/Ailments | - | Death | - |
List of Skills

Skill
Cost
Effect
Dragon Eye
1 MP
Grants user's team four blinking turn icons. (Enemy-only)
Mana Drain
2 MP
Drains a small amount of MP from one foe. Almighty-type.
Sol Niger
Drops all foes' remaining HP to 1. (Enemy-only)
Dekaja
10 MP
Removes all buffs from all foes.
Dekunda
10 MP
Removes all debuffs from all allies.
Tempest
Medium physical damage to all foes. Medium critical rate.
Summonable Ally
Edit
| Level | Race | HP | MP | STR | MGC | VIT | AGL | LCK |
| --- | --- | --- | --- | --- | --- | --- | --- | --- |
| 77 | Tyrant | 624 | 306 | 29 | 25 | 27 | 14 | 16 |
| Strong | Void | Drains | Repels | Weak |
| --- | --- | --- | --- | --- |
| Magic | Expel | - | Death | - |
| | |
| --- | --- |
| Obtainable | Evolution only after boss battle. Open to trading. |
List of Skills

Skill
Cost
Effect
Level
Life Surge
Passive
Equipper's max HP is boosted by 30%.
78
Tetrakarn
6 MP
Creates shields which repel non-almighty physical attack for all allies.
Shield lasts one turn or until it has blocked one attack.
79
Hell Fang
15% HP
Heavy physical damage to one foe. Low accuracy but high critical rate.
80
Victory Cry
Passive
Equipper fully restores HP and MP after battle.
Only effective when the user is the active combatant.
81
Shin Megami Tensei: Strange JourneyEdit
| Attack Type | | | | | | | | | |
| --- | --- | --- | --- | --- | --- | --- | --- | --- | --- |
| All Foes/1/Physical/None | Weak | Weak | - | Strong | - | Strong | Weak | Null | - |
| Poison | Paralyze | Stone | Strain | Sleep | Charm | Mute | Fear | Bomb | Rage |
| --- | --- | --- | --- | --- | --- | --- | --- | --- | --- |
| 100% | 100% | 100% | 100% | 100% | 100% | 100% | 100% | 100% | 100% |
D-Source Skills
Retaliate
Life Surge
None
Shin Megami Tensei IVEdit
As a boss
Edit
| Race | Level | HP | MP | ST | DX | MA | AG | LU |
| --- | --- | --- | --- | --- | --- | --- | --- | --- |
| Vile | 75 |  ? |  ? |  ? |  ? |  ? |  ? |  ? |
| Phys | Gun | Fire | Ice | Elec | Force | Light | Dark |
| --- | --- | --- | --- | --- | --- | --- | --- |
| Weak | Weak | Null | Null | Null | Null | Null | Null |
As an ally
Edit
| Race | Level | HP | MP | ST | DX | MA | AG | LU |
| --- | --- | --- | --- | --- | --- | --- | --- | --- |
| Vile | 66 | 719 | 143 | 90 | 79 | 62 | 72 | 59 |
| Phys | Gun | Fire | Ice | Elec | Force | Light | Dark |
| --- | --- | --- | --- | --- | --- | --- | --- |
| Weak | Weak | Null | Null | Null | Null | Weak | Null |