Alraune
Talk

0
3,797pages on
this wiki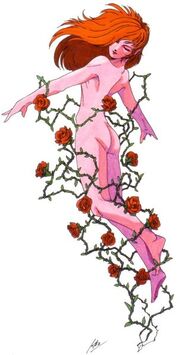 Alraune (アルラウネ, Aruraune) is a demon in the series.
The basis of the story of Alraune dates to the Middles Ages in Germany. The humanoid-shaped Mandrake root or Mandragora officinarum was widely believed to be produced by the semen of hanged men under the gallows. Alchemists claimed that hanged men ejaculated after their necks were broken and that the earth absorbed their final "strengths". In some versions, it is blood instead of semen. The root itself was used in love philtres and potions while its fruit was supposed to facilitate pregnancy. Witches who "made love" to the Mandrake root were said to produce offspring which had no feelings of real love and had no soul.
Appearances
Edit
Shin Megami Tensei: Strange JourneyEdit
"A cursed Norse spirit in the form of a beautiful woman, known to bloom from the blood of hanged men.
She was believed to tell secrets if properly tended to."
—Shin Megami Tensei: Strange Journey Compendium
Shin Megami Tensei IVEdit
"

Mmm, the blood from humans like these is so scrumptious. It has this thick texture that lingers on the tongue.

"
—Alraune
Alraune creates a Domain in Naraku and has taken Navarre and a master Samurai captive in order to feed on them. She loves the taste of the selfish Navarre who tries to harm his fellow Samurai, but calls for their aid when in trouble. She refuses to give him over and a fight starts. Deciding to diet tomorrow, she wants to enjoy all that delicious blood today. Her captives are freed once she is defeated.
Alraune later appears as a normal enemy in Blasted Tokyo.
Megami TenseiEdit
| Race | Level | HP | EXP | Macca | MAG |
| --- | --- | --- | --- | --- | --- |
| Genma | 27 | 232 | - | - | 1.7 |

| Strength | Intelligence | Hit | Agility | Defense | Location |
| --- | --- | --- | --- | --- | --- |
| 14 | 19 | 7 | 11 | 7 | - |
Megami Tensei IIEdit
| Formations | CP | Macca | Item Drops |
| --- | --- | --- | --- |
| - | - | - | - |

| Stamina | Intelligence | Attack | Agility | Defense | Luck |
| --- | --- | --- | --- | --- | --- |
| 6 | 9 | 5 | 6 | 5 | 4 |
Kyūyaku Megami TenseiEdit
Megami TenseiEdit
| Vitality | Intellect | Strength | Speed | Luck |
| --- | --- | --- | --- | --- |
| 12 | 20 | 8 | 12 | 7 |
List of Skills

Skill
Cost
Effect
Marin Karin
6 MP
Inflicts Charm status (2-3 enemies)
Mediama
6 MP
Medium HP recovery (all allies)
Paraladi
6 MP
Cures Paralysis status (1 ally)
Shin Megami Tensei IIEdit
| Strength | Intelligence | Magic | Stamina | Agility | Luck |
| --- | --- | --- | --- | --- | --- |
| 5 | 10 | 15 | 3 | 7 | 4 |

| NOH | Attack | Hit | Defense | Avoid | MPower | MEffect |
| --- | --- | --- | --- | --- | --- | --- |
| 1 | 68 | 52 | 64 | 53 | 17 | 13 |
Shin Megami Tensei: if...Edit
| Strength | Intelligence | Magic | Stamina | Agility | Luck |
| --- | --- | --- | --- | --- | --- |
| 5 | 11 | 17 | 3 | 7 | 4 |

| NOA | Attack | Hit | Defense | Avoid | MPower | MEffect |
| --- | --- | --- | --- | --- | --- | --- |
| 1 | 66 | 51 | 62 | 52 | 19 | 15 |
List of Skills
Skill
Effect
Dormina
Pulinpa
Hapilma
Marin Karin
Deathtouch
Shin Megami Tensei: Strange JourneyEdit
| Attack Type | | | | | | | | | |
| --- | --- | --- | --- | --- | --- | --- | --- | --- | --- |
| Single Foe/1/Physical/None | - | - | Weak | - | - | - | - | - | - |
| Poison | Paralyze | Stone | Strain | Sleep | Charm | Mute | Fear | Bomb | Rage |
| --- | --- | --- | --- | --- | --- | --- | --- | --- | --- |
| 100% | 100% | 100% | 100% | 100% | 300% | 100% | 100% | 100% | 100% |
D-Source Skills
Vigilant
Mediarama
Frolic
Item Drops
Wood Thorn
Life Stone
Chakra Drop
Password
-SNp+Vd2TDZxtdTe

-UXOwHBv-CdvUVd6
Shin Megami Tensei IVEdit
As a BossEdit
| Race | Level | HP | MP | ST | DX | MA | AG | LU |
| --- | --- | --- | --- | --- | --- | --- | --- | --- |
| Wood | 11 | 870 | 391 | 24 | 24 | 24 | 24 | 24 |
| Phys | Gun | Fire | Ice | Elec | Force | Light | Dark |
| --- | --- | --- | --- | --- | --- | --- | --- |
| - | Rs | Wk | - | - | - | Rs | Rs |
As an allyEdit
| Race | Level | HP | MP | ST | DX | MA | AG | LU |
| --- | --- | --- | --- | --- | --- | --- | --- | --- |
| Wood | 51 | 427 | 192 | 57 | 57 | 57 | 57 | 57 |
| Phys | Gun | Fire | Ice | Elec | Force | Light | Dark |
| --- | --- | --- | --- | --- | --- | --- | --- |
| - | Resist | Weak | - | - | - | - | - |
Majin Tensei II: Spiral NemesisEdit
| Race | Level | HP | MP | Movement | Move Type | Range |
| --- | --- | --- | --- | --- | --- | --- |
| Yoma | 28 | 115 | 90 | 7 | Walk | 1 |

| Strength | Wisdom | Magic | Defense | Agility | Luck | MAG |
| --- | --- | --- | --- | --- | --- | --- |
| 12 | 16 | 13 | 14 | 11 | 8 | 320 |

| Attack | Phys Defense | Magic Attack | Magic Defense | Hit | Avoid | Critical |
| --- | --- | --- | --- | --- | --- | --- |
| 34 | 21 | 26 | 37 | 93 | 11 | 19 |
Shin Megami Tensei: Devil SummonerEdit
| Race | Level | HP | MP | CP | NOA |
| --- | --- | --- | --- | --- | --- |
| Wood | 28 | 78 | 132 | 15 | 1 |

| Strength | Intelligence | Magic | Endurance | Agility | Luck |
| --- | --- | --- | --- | --- | --- |
| 5 | 10 | 16 | 3 | 7 | 4 |
| Personality | Phys Attack | Phys Hit | Base Defense | Avoid | Mgc Attack | Mgc Defense |
| --- | --- | --- | --- | --- | --- | --- |
| Sly | 66 | 51 | 62 | 52 | 37 | 29 |
Devil Summoner: Soul HackersEdit
| Race | Level | HP | MP | CP | MAG Summon |
| --- | --- | --- | --- | --- | --- |
| Wood | 40 | 308 | 152 | 12 | 955 |

| Strength | Intelligence | Magic | Endurance | Agility | Luck |
| --- | --- | --- | --- | --- | --- |
| 5 | 12 | 16 | 7 | 8 | 9 |
| Personality | Phys Attack | Phys Hit | Mgc Attack | Mgc Hit | Base Defense | Avoid |
| --- | --- | --- | --- | --- | --- | --- |
| Sly | 90 | 65 | 142 | 40 | 110 | 64 |
| Resist | Void | Absorb | Reflect | Weak |
| --- | --- | --- | --- | --- |
| - | Death | - | Ice | Fire |
| Race | Level | HP | MP | CP | MAG Summon |
| --- | --- | --- | --- | --- | --- |
| Wood | 28 | 224 | 112 | - | - |

| Strength | Intelligence | Magic | Endurance | Agility | Luck |
| --- | --- | --- | --- | --- | --- |
| 5 | 12 | 16 | 7 | 8 | 9 |
| Personality | Phys Attack | Phys Hit | Mgc Attack | Mgc Hit | Base Defense | Avoid |
| --- | --- | --- | --- | --- | --- | --- |
| - | 66 | 47 | 142 | 40 | 86 | 46 |
| Resist | Void | Absorb | Reflect | Weak |
| --- | --- | --- | --- | --- |
| Expel | Death | - | Ice | Fire |
Devil Summoner 2: Raidou Kuzunoha vs King AbaddonEdit
| Level | Order | HP | ST | MA | VI | LU | Conversation | Investigation |
| --- | --- | --- | --- | --- | --- | --- | --- | --- |
| 29 | Frost | 407 | 8 | 20 | 11 | 9 | Debate | Cool Down |
| Resists | Block | Absorbs | Weak | Frail |
| --- | --- | --- | --- | --- |
| - | Mind, Death | Ice | - | Electric |
List of Skills

Skill
Cost
Effect
Level
Bufurati
15 MAG
Light Ice damage in a three-way spread
Innate
Ice Slash
40 MAG
Heavy Ice damage to all enemies. Has a short stun duration. Requires a blade
30
Dia Aura
16 MAG
Gradually restores a small amount of HP to a single ally
31
Ice Resist
N/A
Resist Ice attacks
Max Loyalty
Giten Megami Tensei: Tokyo MokushirokuEdit
| CP | Intuition | Will Power | Magic | Intelligence | Divine Protection |
| --- | --- | --- | --- | --- | --- |
| 31 | 22 | 11 | 26 | 14 | 16 |
| Strength | Stamina | Agility | Dexterity | Charm |
| --- | --- | --- | --- | --- |
| 13 | 12 | 20 | 12 | 40 |
| CP | Intuition | Will Power | Magic | Intelligence | Divine Protection |
| --- | --- | --- | --- | --- | --- |
| 25 | 15 | 19 | 16 | 15 | 6 |
| Strength | Stamina | Agility | Dexterity | Charm |
| --- | --- | --- | --- | --- |
| 18 | 16 | 17 | 10 | 14 |
Persona 4Edit
| Level | Arcana | ST | MA | EN | AG | LU |
| --- | --- | --- | --- | --- | --- | --- |
| 41 | Moon | 17 | 35 | 21 | 29 | 28 |
| Inherit | Resists | Block | Absorbs | Reflects | Weak |
| --- | --- | --- | --- | --- | --- |
| Recovery | Fire, Ice | Dark | - | - | Wind |
List of Skills

Skill
Cost
Effect
Level
Mediarama
12 SP
Recovers moderate amount of HP. All allies.
Innate
Energy Shower
18 SP
Heals Exhaustion and Enervation. All allies.
Innate
Old One
12 SP
25% chance to inflict Enervation status. All foes.
Innate
Makarakarn
55 SP
Repels 1 elemental attack. 1 ally.
43
Green Wall
18 SP
Increases an ally's Wind resistance. 3 turns.
44
Null Enervate
Passive
Nulls Enervation status
45
Enervate Boost
Passive
Enervation attacks are 50% more effective
46
Devil Children Fire/Ice BookEdit
| Class | Element | Type | Exp | Level | HP | MP |
| --- | --- | --- | --- | --- | --- | --- |
| Elite | Wind | Zombie | | 43 | 458 | 211 |
| ATK | DEF | MGC | RES | SPD | LCK |
| --- | --- | --- | --- | --- | --- |
| 38 | 48 | 41 | 40 | 36 | 37 |
ResurrectedEdit
| Class | Element | Type | Exp | Level | HP | MP |
| --- | --- | --- | --- | --- | --- | --- |
| Elite | Wind | Fiend | | 49 | 521 | 235 |

| ATK | DEF | MGC | RES | SPD | LCK |
| --- | --- | --- | --- | --- | --- |
| 43 | 44 | 49 | 46 | 40 | 45 |
Shin Megami Tensei: Devil Summoner
Alraune design originating from Devil Summoner: Soul Hackers
Alraune as she appears in Persona 4
Alraune as she appears in Kyūyaku Megami Tensei
Alraune as she appears in Kyuyaku Megami Tensei (Megami Tensei II)
Alraune in Last Bible III
Alraune as she appears in Giten Megami Tensei: Tokyo Mokushiroku
Alraune as she appears in Raidou Kuzunoha vs. The Lone Marebito
Alraune as she appears in Shin Megami Tensei: Card Summoner