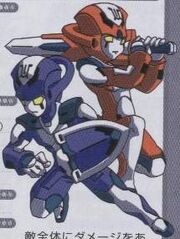 Ambriel (アムブリエル, Amuburieru) is a demon in the series.
An angel in ceremonial magic tracts, used for invocation. His named is also found inscribed on the second pentacle of the moon. A protective angel, Ambriel presides over the months May and the sun sign Gemini.
Appearances
Edit
DemiKids: Light & DarkEdit
Known as Gemini, they have the special power of WindHoard. Gemini can be found at Sword Cave, Kibra Woods, Wind Shrine, Peril Forest, and Underworld in Light Version and Jude Plans and Mount Falos in Dark Version.
DemiKids: Light & DarkEdit
| Class | Element | Type | Exp | Level | HP | MP |
| --- | --- | --- | --- | --- | --- | --- |
| Elite | Wind | Holy | 574 | 38 | 400 | 182 |

| ATK | DEF | MGC | RES | SPD | LCK |
| --- | --- | --- | --- | --- | --- |
| 35 | 34 | 35 | 33 | 33 | 30 |
List of Skills

Skill
Element
Cost
Effect
Cycloblast
Wind
20 MP
Medium dmg. Foes
Spellblock
Light
12 MP
Spell Reflect. Self
Defboost
Light
6 MP
DEF Up. Party
Hex Coma
Dark
10 MP
Small dmg +Faint. 1 Foe
Cycloblast
Wind
20 MP
Medium dmg. Foes
Revive
Light
18 MP
Revive. 1 Ally
Devil Children Fire/Ice BookEdit
| Class | Element | Type | Exp | Level | HP | MP |
| --- | --- | --- | --- | --- | --- | --- |
| Elite | Wind | Holy | | 38 | 400 | 182 |

| ATK | DEF | MGC | RES | SPD | LCK |
| --- | --- | --- | --- | --- | --- |
| 35 | 34 | 35 | 33 | 33 | 30 |
Devil Children Messiah RiserEdit
| Number | Element | Weakness | Type | Level | HP | MP |
| --- | --- | --- | --- | --- | --- | --- |
| 22 | Wind | Ice | Holy | 22 | 160 | 160 |
| ATK | MGC | DEF | RES | SPD | Quick | Call | Spell |
| --- | --- | --- | --- | --- | --- | --- | --- |
| 20 | 7 | 6 | 2 | 10 | 33 | 17 | Tarukaja |