Ad blocker interference detected!
Wikia is a free-to-use site that makes money from advertising. We have a modified experience for viewers using ad blockers

Wikia is not accessible if you've made further modifications. Remove the custom ad blocker rule(s) and the page will load as expected.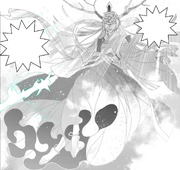 Ame no Ohabari (天の尾羽張), Blade of Totsuka (とつかのけん?), or Kamudo no Tsurugi (神度剣) is a demon and weapon in the series.
Ame no Ohabari (Tail Feathers of Heaven) is another name for the Totsuka no Tsurugi, the legendary sword used by Izanagi to kill Hi no Kagutsuchi and used by Susano-o to kill Yamata no Orochi. Not to be confused with the Kusanagi no Tsurugi, which was a sword that Susano-o found in the fourth tail of Orochi after killing it and used afterwards as an offering to reconcile with his sister Amaterasu.
Appearances
Edit
Devil Summoner: Raidou Kuzunoha vs. The Lone MarebitoEdit
To aid Raidou against Clarion, Kushinada sacrifices her life to bring forth the sword Ame-no-Ohbari, which he uses to slay Clarion with his demons aiding him.
Shin Megami Tensei IMAGINEEdit
KamudonotsurugiEdit
Affinity
Type
Effect
Restrictions
Slash
1 Hand Sword
+10% Damage to Gods, Null Blaze ailment
-

| Close Range | Spell | Support | Critical | Durability | Slots |
| --- | --- | --- | --- | --- | --- |
| 30 | 28 | 15 | 8 | 42 | 0-5 |

| St | In | Ma | Vi | Ag | Lu | Obtained |
| --- | --- | --- | --- | --- | --- | --- |
| - | - | - | - | - | - | Old Ichigaya Camp (Bronze/Gold), Swordsmith |
Affinity
Type
Effect
Restrictions
Slash
1 Hand Sword
+20% Fire Boost, +20% damage to Gods, Null Blaze status, +15% Spin damage if Law
Level 50+

| Close Range | Spell | Support | Critical | Durability | Slots |
| --- | --- | --- | --- | --- | --- |
| 38 | 30 | - | 10 | 30 | 3-4 |

| St | In | Ma | Vi | Ag | Lu | Obtained |
| --- | --- | --- | --- | --- | --- | --- |
| - | - | - | - | - | - | Synthesis |
Majin Tensei II: Spiral NemesisEdit
Attack
Accuracy
Type
Effect
78
85
Long Sword
-
| St | In | Ma | Vi | Ag | Lu | Obtained |
| --- | --- | --- | --- | --- | --- | --- |
| - | - | 1 | - | - | - | Chest: Zebr, Ahrqa |
Devil Summoner: Raidou Kuzunoha vs. King AbaddonEdit
Ameno-Ohabari
Edit
| Attack | | | Type | Effect | Evolves From | Evolves To |
| --- | --- | --- | --- | --- | --- | --- |
| 305 | | | Axe | Elec Boost | Doujigiri/Seimitsu/Kanshou/Bakuya | Totsuka |
| HP | St | In | Ma | Vi | Ag | Lu | Required Materials |
| --- | --- | --- | --- | --- | --- | --- | --- |
| 20 | 5 | | - | - | | - | Fury Silver x2, Volt Silver x3, Volt Bronze x2 |
| Attack | | | Type | Effect | Evolves From | Evolves To |
| --- | --- | --- | --- | --- | --- | --- |
| 350 | | | Axe | Halve Phys | Ameno-Ohabari | Mitsurugi |
| HP | St | In | Ma | Vi | Ag | Lu | Required Materials |
| --- | --- | --- | --- | --- | --- | --- | --- |
| 30 | 6 | | - | - | | - | Fury Gold x2, Volt Gold x1, Fury Silver x3 |
Persona 2: Eternal PunishmentEdit
Attack
Accuracy
Type
Effect
128
Fair
Sword
Inflicts Shock (rate: fair), SAt. +40
| St | Vi | Dx | Ag | Lu | Obtained |
| --- | --- | --- | --- | --- | --- |
| - | - | - | - | - |  ? |
Persona 4Edit
Attack
Accuracy
Type
Effect
408
96
Sword
+Crit Rate up (high)