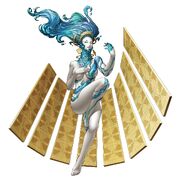 Anahita (アナーヒター, Anāhitā) is a demon in the series.
Also known as Aredvi Sura Anahita she is a lesser Yazata from Zoroastrianism. She is identified with the Aban or the waters and is thus a river deity responsible for fertility. She was worshiped as part of those duties. She rode in a chariot driven by four horses and was benevolent to those who worshiped her and stern to those who did not. She was both the god of and the source of the world river. She tended to be conflated with the Semitic goddess Ishtar or the Gathas Ashi.
Shin Megami Tensei: Strange Journey ReduxEdit
Anahita is the boss of the First Sphere of the Womb of Grief. Her skill set is predisposed towards ice, sporting attacks like Bufudyne and her signature Hellish Spurt which hits random targets for ice damage.
While normally a straightforward boss fight, once she falls to half health, she unleashes Cocytus, which boosts the strength of her attacks and prevents fire attacks from working while it's active. When this happens, her weakness to fire can't be exploited for Co-Op attack damage, so play defensively and switch to basic attacks until it passes.
After Anahita's defeat, Demeter shows up and tells her of the Harvest. Anahita gives the protagonist the first Fruit, opens up the path to the second Sphere, and becomes available for fusion. The protagonist also finds the Damp Hair forma, which forms the Co-Op Enhance R Sub-App, allowing Co-Op attacks to trigger on another target if a weakness-hitting attack kills its target.
Anahita requires a special fusion involving Power, Jack Frost, and Azumi.
Appearances
Edit
Shin Megami Tensei: Strange Journey ReduxEdit
Race

Alignment

Level

HP

MP

| | | |
| --- | --- | --- |
| Strength | 19 | |
| Magic | 24 | |
| Vitality | 20 | |
| Agility | 17 | |
| Luck | 19 | |

Nymph
Neutral-Law
23
1500
∞
| Attack Type | | | | | | | | | |
| --- | --- | --- | --- | --- | --- | --- | --- | --- | --- |
| Single Foe/1/Physical/None | - | Resist | Weak | Drain | - | - | Null | Null | - |
| Poison | Paralyze | Stone | Strain | Sleep | Charm | Mute | Fear | Bomb | Rage |
| --- | --- | --- | --- | --- | --- | --- | --- | --- | --- |
| Null | - | - | - | - | - | - | - | - | - |
List of Skills

Bufudyne
Mabufula
Hellish Spurt
Cocytus
Fang Breaker
Toxic Cloud
Impure Sigh
Race

Alignment

Level

HP

MP

| | | |
| --- | --- | --- |
| Strength | 18 | |
| Magic | 25 | |
| Vitality | 20 | |
| Agility | 17 | |
| Luck | 19 | |

Nymph
Neutral-Law
28
253
147
| Attack Type | | | | | | | | | |
| --- | --- | --- | --- | --- | --- | --- | --- | --- | --- |
| Single Foe/1/Physical/None | - | - | Weak | Drain | - | - | Null | - | - |
| Poison | Paralyze | Stone | Strain | Sleep | Charm | Mute | Fear | Bomb | Rage |
| --- | --- | --- | --- | --- | --- | --- | --- | --- | --- |
| Null | - | - | - | - | - | - | - | - | - |
D-Source Skills
Mediarama
Recovery Amp
Tarukaja
Password
ISh9MrTvmZ&8mfiH
MriYL5jRMmjlMrkh
Majin Tensei II: Spiral NemesisEdit
| Race | Level | HP | MP | Movement | Move Type | Range |
| --- | --- | --- | --- | --- | --- | --- |
| Megami | 52 | 255 | 220 | 10 | Flight | 1 |

| Strength | Wisdom | Magic | Defense | Agility | Luck | MAG |
| --- | --- | --- | --- | --- | --- | --- |
| 15 | 24 | 28 | 20 | 17 | 16 | - |

| Attack | Phys Defense | Magic Attack | Magic Defense | Hit | Avoid | Critical |
| --- | --- | --- | --- | --- | --- | --- |
| 47 | 38 | 104 | 94 | 100 | 19 | 8 |
Giten Megami Tensei: Tokyo MokushirokuEdit
| CP | Intuition | Will Power | Magic | Intelligence | Divine Protection |
| --- | --- | --- | --- | --- | --- |
| 51 | 23 | 25 | 44 | 22 | 17 |

| Strength | Stamina | Agility | Dexterity | Charm |
| --- | --- | --- | --- | --- |
| 22 | 36 | 16 | 16 | 69 |
List of Skills

Aqua Cutter
Electric Shock
Bubble Foam
Aqua Pillar
Water Wall
Mediarama