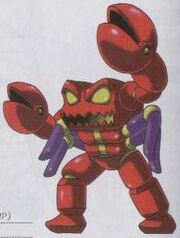 Android (アンドロイド, Andoroido) is a demon in the series.
Android is a robot or synthetic organism made to look, act, and appear as a human, including creating flesh-like substances to cover the machine parts.
Appearances
Edit
Devil Children Red/Black BookEdit
Rank fusing Robot nine times can have him rank up to Android.
Devil Children Red/Black BookEdit
| Class | Element | Type | Exp | Level | HP | MP |
| --- | --- | --- | --- | --- | --- | --- |
| General | Thunder | Ogre | 594 | 39 | 420 | 176 |
| ATK | DEF | MGC | RES | SPD | LCK |
| --- | --- | --- | --- | --- | --- |
| 36 | 35 | 32 | 34 | 33 | 33 |
Devil Children Black Book/Red Book (PS)Edit
| Class | Element | Type | Exp | Level | HP | MP |
| --- | --- | --- | --- | --- | --- | --- |
| General | Thunder | Ogre | 594 | 39 | 420 | 176 |
| ATK | DEF | MGC | RES | SPD | LCK |
| --- | --- | --- | --- | --- | --- |
| 36 | 35 | 32 | 34 | 33 | 33 |
Devil Children: White BookEdit
| Class | Element | Type | Exp | Level | HP | MP |
| --- | --- | --- | --- | --- | --- | --- |
| General | Thunder | Ogre | 594 | 39 | 420 | 176 |
| ATK | DEF | MGC | RES | SPD | LCK |
| --- | --- | --- | --- | --- | --- |
| 36 | 35 | 32 | 34 | 33 | 33 |