Ad blocker interference detected!
Wikia is a free-to-use site that makes money from advertising. We have a modified experience for viewers using ad blockers

Wikia is not accessible if you've made further modifications. Remove the custom ad blocker rule(s) and the page will load as expected.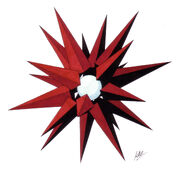 Andromeda (アンドロメダ?) is an enemy in the series.
Named after the princess Andromeda from Greek lore, who was offered as a sacrifice to a sea monster thanks to her mothers arrogance, until Perseus saved her. She would later wed Perseus. Andromeda is also a constellation and the name of a galaxy.
Appearances
Edit
Shin Megami Tensei IIEdit
| MAG | NOA | ATK | ACC | DEF | EVA | M.ATK | M.EFC |
| --- | --- | --- | --- | --- | --- | --- | --- |
| - | 1 | 58 | 38 | 54 | 38 | 5 | 9 |

| | | |
| --- | --- | --- |
| St | 9 | |
| In | 9 | |
| Ma | 3 | |
| Vi | 7 | |
| Ag | 6 | |
| Lu | 2 | |
Swd
Gun
Fir
Ice
Elc
For
Nrv
Exp
Crs
Mgc
Bnd
Rsh
Hnd
Leg
Fly
Alm
-

5

/

8

4

/

8
Nu
2.5×
-
Nu
Nu
Nu
Nu
Nu

6

/

8

3

/

8

3

/

8

2

/

8
-
List of Skills

Skill
Effect
Needle Rush
Light Flying attack to 3-5 foes.
Shock
Medium Electrical damage to 1-3 foes.
Tackle
Medium Rush damage to one foe. Low accuracy.
Absorption
User fuses with one ally, adding HP and MP together. (Enemy only)