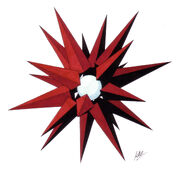 Andromeda (アンドロメダ?) is an enemy in the series.
Named after the princess Andromeda from Greek lore, who was offered as a sacrifice to a sea monster thanks to her mothers arrogance, until Perseus saved her. She would later wed Perseus. Andromeda is also a constellation and the name of a galaxy.
Andromeda may alternatively be named after the Andromeda Strain from the novel and movie adaptation of the same name, in which the titular extraterrestrial virus poses a lethal threat.
Appearances
Edit
Shin Megami Tensei IIEdit
| MAG | NOA | ATK | ACC | DEF | EVA | M.ATK | M.EFC |
| --- | --- | --- | --- | --- | --- | --- | --- |
| - | 1 | 58 | 38 | 54 | 38 | 5 | 9 |

| | | |
| --- | --- | --- |
| St | 9 | |
| In | 9 | |
| Ma | 3 | |
| Vi | 7 | |
| Ag | 6 | |
| Lu | 2 | |
Swd
Gun
Fir
Ice
Elc
For
Nrv
Exp
Crs
Mgc
Bnd
Rsh
Hnd
Leg
Fly
Alm
-

5

/

8

4

/

8
Nu
2.5×
-
Nu
Nu
Nu
Nu
Nu

6

/

8

3

/

8

3

/

8

2

/

8
-
List of Skills

Skill
Effect
Needle Rush
Light Flying attack to 3-5 foes.
Shock
Medium Electrical damage to 1-3 foes.
Tackle
Medium Rush damage to one foe. Low accuracy.
Absorption
User fuses with one ally, adding HP and MP together. (Enemy only)