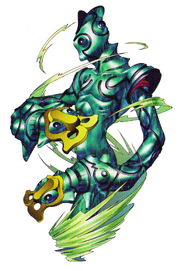 "...SHE WHO WAS BORN FROM CURSED BLOOD... TURNEST THY BLADE ON ME...? THOUGH IT BE AGES SINCE LAST I FOUGHT, I STILL SHALL NOT LOSE TO THEE..."
—Apsu, Devil Summoner: Soul Hackers
Apsu (アプスー) is a demon appearing in the series.
In Babylonian, Sumerian, and Akkadian myth, Apsu (or Abzu) is the deification of the primordial fresh water who was the lover of Tiamat, the primal goddess of the salt water, and together they created the gods.
Appearances
Edit
Shin Megami Tensei IV Edit
"A Mesopotamian god of the deep waters.
Apsu existed since the birth of time and is depicted as a freshwater sea. He is the source of knowledge and made the lands fertile. His fresh water mixed with that of Tiamat, the deification of the chaotic salt waters, and from there the main gods were born."
—Shin Megami Tensei IV Compendium
Devil Summoner: Soul HackersEdit
Apsu is one of the two ancient demons inhabiting the ruins beneath Nikamimon, the other being Tiamat. Their presence interfered with the Phantom Society's plans of installing Manitou at the site, so Vice-Minister Nishi hired Naomi to eliminate one of the demons to make room.
During the associated Vision Quest, the player must choose whether Naomi eliminates Tiamat or Apsu. If Apsu is confronted, upon its defeat he curses Naomi and kills her as it dies. The god's power is later absorbed by Manitou, which gives it strong physical attacks but a vulnerability to magical attacks.
Shin Megami Tensei IVEdit
Race

Level

HP

MP

| | | |
| --- | --- | --- |
| Strength | 70 | |
| Dexterity | 78 | |
| Magic | 101 | |
| Agility | 66 | |
| Luck | 93 | |

Deity
75
399
387
| Phys | Gun | Fire | Ice | Elec | Force | Light | Dark |
| --- | --- | --- | --- | --- | --- | --- | --- |
| - | - | Weak | Repel | - | - | - | Null |
| | |
| --- | --- |
| Normal Attack | Phys/1 hit/1 target |
List of Skills

Skill
Cost
Effect
Level
Titanomachia
30 MP
Heavy physical damage to all foes. High critical but low accuracy.
Innate
Life Aid
Auto
Recovers HP moderately after victory.
Innate
Mabufudyne
32 MP
Heavy ice damage to all foes.
76
Shin Megami Tensei IV ApocalypseEdit
Race

Level

HP

MP

| | | |
| --- | --- | --- |
| Strength | 54 | |
| Dexterity | 71 | |
| Magic | 122 | |
| Agility | 80 | |
| Luck | 97 | |

Deity
82
510
420
| Phys | Gun | Fire | Ice | Elec | Force | Light | Dark |
| --- | --- | --- | --- | --- | --- | --- | --- |
| - | - | - | Repel | Weak | - | - | Resist |
| | |
| --- | --- |
| Normal Attack | Phys x1, 1 enemy |
List of Skills

Skill
Cost
Effect
Level
Ice Age
40 MP
Severe ice damage to one foe.

Smirk

+Ice Pierce
Innate
Victory Cry
Auto
Recovers HP and MP fully after victory.
Innate
Titanomachia
35 MP
Heavy physical damage to all foes. High critical but low accuracy.
83
Smile Charge
50 MP
Bestows the user with smirk. Cannot be used if the user has ailment(s).
84
Repel Fire
Auto
Reflects fire damage.
85
| Race | Level | HP | MP | Movement | Move Type | Range | Arcana |
| --- | --- | --- | --- | --- | --- | --- | --- |
| | 30 | 293 | 153 | 5 | Ground | 1 | Quake, Spell |
| Strength | Intellect | Magic | Vitality | Agility | Luck | Attack | Defense | Mag.Def. |
| --- | --- | --- | --- | --- | --- | --- | --- | --- |
| 20 | 5 | 5 | 15 | 7 | 8 | 170 | 70 | 45 |
Resistances
Sl
St
Rn
Fi
Ic
El
Li
Dk
Al
D
A
A
C
H
C
B
C
C
Devil Summoner: Soul HackersEdit
| Race | Level | HP | MP | CP | MAG Summon |
| --- | --- | --- | --- | --- | --- |
| Godly | 74 | 11119 | 178 | - | - |

| Strength | Intelligence | Magic | Endurance | Agility | Luck |
| --- | --- | --- | --- | --- | --- |
| 25 | 16 | 19 | 24 | 9 | 12 |
| Personality | Phys Attack | Phys Hit | Mgc Attack | Mgc Hit | Base Defense | Avoid |
| --- | --- | --- | --- | --- | --- | --- |
| - | 198 | 118 | 173 | 50 | 212 | 117 |
| Resist | Void | Absorb | Reflect | Weak |
| --- | --- | --- | --- | --- |
| Phys | Expel, Death, Mind, Nerve, Curse | - | - | Magic |