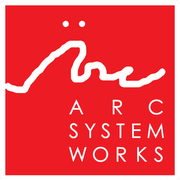 Arc System Works (アークシステムワークス株式会社) is a video game developer and publisher based in Japan.
Arc System Works is a game developer best known for its work on the arcade 2D fighting game series, Guilty Gear and BlazBlue. In a 2011 article in Famitsu, they announced that they were working on an arcade fighting game for the Persona series jointly with the Persona team.
External Links
Edit
Ad blocker interference detected!
Wikia is a free-to-use site that makes money from advertising. We have a modified experience for viewers using ad blockers

Wikia is not accessible if you've made further modifications. Remove the custom ad blocker rule(s) and the page will load as expected.