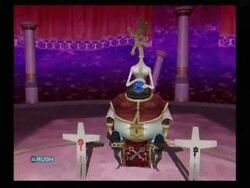 The Hierophant is one of two Shadows that appears during the fourth Full Moon Operation (July 7th) in Persona 3. After its defeat, Arcana Lovers is eventually fought.
Appearances
Edit
Persona 3Edit
The Hierophant appears in a love hotel within the infamous red-light district known as Shirakawa Boulevard. Its appearance is rather startling; an extremely obese man sits upon a small throne, the Hierophant mask on its face. Behind him, sprouting from the small throne is what appears to be a woman, entirely beige, and with a flailing head shaped like six-barred cross. On either side of the throne are figures resembling people that shake constantly. When attacking, the obese man and the beige woman laugh in synchrony. The obese figure is wearing what appears to be papal clothing with a portion of it drooping down to show the Keys of Heaven. The throne's legs are literally legs wearing leggings and red high heels. Two cross shaped figures stand at both sides.
As this is the Reversed version of the Hierophant Arcana, it represents the dark side of the Arcana. The Hierophant represents education, authority, conservatism, obedience to rules and relationship with the divine. The Reversed version represents the misuse of the divine knowledge to manipulate others as the two crosses represents followers who are crucified. The main Hierophant itself represents a powerful religious figure, who uses his authority and his relationship to the divine, which is the woman, to control others.
It is likely that that Hierophant could also represent bending the rules, as the womanly figure coming out from the chair whose head is a bent cross. The rules that are being bent are vows, like a being a priest swearing celibacy and chastity or a married couple vowed to be with each other only. The seated figure is obese, likely representing indulgence, being of a sexual nature -- as represented by the fishnet wearing legs sprouting from the chair.
Ad blocker interference detected!
Wikia is a free-to-use site that makes money from advertising. We have a modified experience for viewers using ad blockers

Wikia is not accessible if you've made further modifications. Remove the custom ad blocker rule(s) and the page will load as expected.