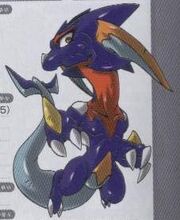 Arch Rox, known as Arch Hei Long (アークヘイロン, Aakuheiron) in Japan, is a demon in the series.
Appearances
Edit
DemiKids Light & DarkEdit
One of the first two forms that Rox evolves into after defeating Harborim. Choosing to take a closer look will result in Gale evolving into this form. Can perform the combo Dragon Blow with Basilisk or Power, it is a dark element punch attack that hits all foes two times.
Devil Children Fire/Ice BookEdit
Gale will evolve down this path if his MGC stat is higher than his ATK stat.
| Class | Element | Type | Exp | Level | HP | MP |
| --- | --- | --- | --- | --- | --- | --- |
| Elite | Dark | Myth | 128 | 17 | 178 | 96 |

| ATK | DEF | MGC | RES | SPD | LCK |
| --- | --- | --- | --- | --- | --- |
| 14 | 15 | 19 | 16 | 18 | 10 |
List of Skills

Skill
Element
Cost
Effect
Dark Howl
Dark
25 HP
Small dmg. Foes
Miracle Cure
Light
12 MP
Cure +HP Recovery. 1 Ally
Heal All
Light
12 MP
Minor HP recovery. Party
Spellguard
Light
6 MP
RES Up. Party
Powerdrain
Dark
5 MP
ATK Down. Foes
Defboost
Light
6 MP
DEF Up. Party
Devil Children Fire/Ice BookEdit
| Class | Element | Type | Exp | Level | HP | MP |
| --- | --- | --- | --- | --- | --- | --- |
| Elite | Dark | Myth | 128 | 17 | 178 | 96 |

| ATK | DEF | MGC | RES | SPD | LCK |
| --- | --- | --- | --- | --- | --- |
| 14 | 15 | 19 | 16 | 18 | 10 |