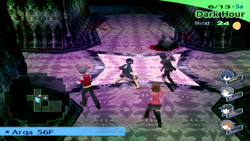 Arqa (奇顔の庭アルカ, Kigao-no niwa Aruka lit. Garden of Odd-Faces Arqa) is the second block of Tartarus in Persona 3.
Arqa first becomes available for exploration on May 10th, after the protagonist defeats the Arcana Priestess. However, unlike its predecessor the Thebel Block, it is divided into two sections and the second is unlocked on June 13th, after the Arcana Empress and Emperor are defeated.
In total, Arqa has 48 floors that go from 17F to 64F. The division between the two sections can be found on 40F. The preset floors are 25F, 36F, 47F and 59F.
Visually, it features a darker design than Thebel, with stone castle wall designs and chitinous materials lining the floor and an occassional face on the wall. The floors feature a repeating skull design with inverted patterns in places.
The music that plays in the Arqa Block is simillar to the one that plays in the Thebel Block, but has a louder synth percussion.
"Araq" (Hebrew: אַרְקָא) means "ground" in Aramaic and ancient Hebrew. It is also the name of the third world created in Kabbalah tradition.
Shuffle Time Personas
Edit
Section 1
Edit
Section 2
Edit
Section 1
Edit
Section 2
Edit
Note:
* A Red box denotes a rare Red Shadow.
* A White box denotes a rare Gold Shadow.
Guardians
Edit
Section 1
Edit
| Shadow | LV | HP | SP | Arcana | Weak | Resist | Block | Absorb | Reflect | Floor |
| --- | --- | --- | --- | --- | --- | --- | --- | --- | --- | --- |
| Crying Table | 14 | 250 | - | Magician | | | | | - | 25 |
| Change Relic | - | 850 | - | Empress | - | - | | - | - | 36 |
Section 2
Edit
Items of Interest
Edit