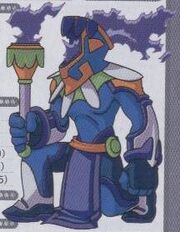 Asha (アシャ, Asha) is a demon in the series.
Also known as Asha Vahista("Best Truth/Righteousness") is one of the Amesha Spentas of Zoroastiran mythology. He is the personification of truth and righteousness. He is associated with fire and is the one who gives warmth and the spark of life to the other Amesha Spentas. Ahura Mazda dispenses justice through radiance of His fire and Asha. Someone who passes the test given by him will attain physical and spiritual gifts such as strength and wisdom. Asha prevents demons from inflicting too much harm to souls consigned to hell. Asha and Airyaman will together battle with Az, the demon of greed.
Appearances
Edit
DemiKids: Light & DarkEdit
Known as Puritus, he has the special power Final Wall, which blocks most attacks when near death.
| Race | Level | HP | MP | Movement | Move Type | Range | Arcana |
| --- | --- | --- | --- | --- | --- | --- | --- |
| | 30 | 350 | 250 | 5 | Ground | 1 | |
| Strength | Intellect | Magic | Vitality | Agility | Luck | Attack | Defense | Mag.Def. |
| --- | --- | --- | --- | --- | --- | --- | --- | --- |
| 11 | 15 | 13 | 10 | 9 | 12 | 161 | 65 | 53 |
Resistances
Sl
St
Rn
Fi
Ic
El
Li
Dk
Al
B
B
C
H
H
H
H
S
S
DemiKids: Light & DarkEdit
| Class | Element | Type | Exp | Level | HP | MP |
| --- | --- | --- | --- | --- | --- | --- |
| King | Light | Holy | 691 | 41 | 440 | 199 |

| ATK | DEF | MGC | RES | SPD | LCK |
| --- | --- | --- | --- | --- | --- |
| 37 | 36 | 39 | 38 | 37 | 38 |
List of Skills

Skill
Element
Cost
Effect
Pyrolok
Fire
15 MP
Large dmg. 1 Foe
Healmor
Light
10 MP
Minor HP recovery. 1 Ally
Powerboost
Light
6 MP
ATK Up. Party
Pyroblast
Fire
20 MP
Medium dmg. Foes
Resurrect
Light
25 MP
Revive +Max HP. 1 Ally
Cyclomax
Wind
45 MP
Large dmg x2. Foes
Devil Children: Fire/Ice BookEdit
| Class | Element | Type | Exp | Level | HP | MP |
| --- | --- | --- | --- | --- | --- | --- |
| King | Light | Holy | 691 | 41 | 440 | 199 |

| ATK | DEF | MGC | RES | SPD | LCK |
| --- | --- | --- | --- | --- | --- |
| 37 | 36 | 39 | 38 | 37 | 38 |