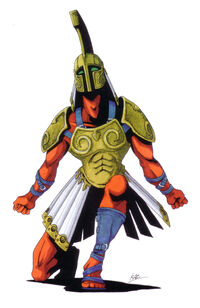 Atlas (アトラス?)is a demon in the series.
Atlas is a Titan who bore the spheres of the heavens; inspiring the widely used image of a man carrying a celestial sphere on his back or shoulders.
Appearances
Edit
Megami Tensei IIEdit
In a tunnel that connects Ginza to Korakuen, the hero encounter the petrified body of Atlas. By having a nearby scientist make a Petranon from an Anamiran, the hero can recruit him.
Shin Megami TenseiEdit

"Origin: Greece. Prometheus's brother and a strong hero. After the Titans lost the battle against Zeus and the other gods, he was punished. His sentence was to hold up the weight of heaven for all eternity. He was later turned to stone out of pity."
—Shin Megami Tensei A-Mode DDS Dictionary
Megami Tensei IIEdit
| Stamina | Intelligence | Attack | Agility | Luck | Defense |
| --- | --- | --- | --- | --- | --- |
| 15 | 9 | 11 | 6 | 8 | 11 |
Kyūyaku Megami TenseiEdit
Megami Tensei IIEdit
| Race | Level | HP | MP | VIT | INT | STR | SPD | LUC | DEF |
| --- | --- | --- | --- | --- | --- | --- | --- | --- | --- |
| Jirae | 25 | 191 | 34 | 15 | 9 | 11 | 6 | 8 | 11 |
List of Spells

Skill
Cost
Effect
Hanmahan
9 MP
Medium Expel damage (2 enemies)
Tetraja
6 MP
Nullifies Energy Drain (party)
Shin Megami TenseiEdit
| CP | NOA | ATK | ACC | DEF | EVA | M.ATK | M.EFC |
| --- | --- | --- | --- | --- | --- | --- | --- |
| 29 | 1-4 | 126 | 20 | 64 | 13 | 14 | 13 |

| | | |
| --- | --- | --- |
| St | 30 | |
| In | 11 | |
| Ma | 13 | |
| Vi | 20 | |
| Ag | 12 | |
| Lu | 8 | |
| | | | |
| --- | --- | --- | --- |
| Resistances | Weak to Force, magic, and Almighty | Drop | Bead |
List of Skills

Skill
Cost
Effect
Sukukaja
2 MP
Raises the hit-rate of all party members.
Diarahan
8 MP
Completely restores one ally's HP.
Berserk
Extra
Damages one group of enemies. (Charge-type)
Last BibleEdit
| Level | HP | MP | NOA | DEF | STR | INT | END | SPD | LUC |
| --- | --- | --- | --- | --- | --- | --- | --- | --- | --- |
| 22 | 155 | 30 | 1 | | 15 | 7 | 15 | 11 | 9 |
List of Skills

Skill
Cost
Effect
Impact 1
4 MP
Weak force damage to a group of enemies
Impact 3
14 MP
Heavy Force damage to all enemies
Confuse 2
7 MP
Confuse all enemies
Last Bible IIIEdit
| Level | HP | MP | ATK | DEF | STR | INT | END | SPD | LUC |
| --- | --- | --- | --- | --- | --- | --- | --- | --- | --- |
| 35 | 380 | 137 | 84 | 40 | 20 | 10 | 18 | 17 | 10 |
Majin Tensei II: Spiral NemesisEdit
| Race | Level | HP | MP | Mv Range | Mv Type | Atk Range | MAG |
| --- | --- | --- | --- | --- | --- | --- | --- |
| Jirae | 57 | 255 | 0 | 5 | Walk | 1 | 400 |

| St | Ma | In | Ag | Lu | Atk | P.Def | M.Atk | M.Def | Hit | Eva | Crt |
| --- | --- | --- | --- | --- | --- | --- | --- | --- | --- | --- | --- |
| 23 | 18 | 15 | 13 | 7 | 98 | 28 | 41 | 39 | 94 | 11 | 13 |
List of Skills

Skill
Power
Range
Cost
Target
Effect
Squeezing
300%
1
P. Extra
Single
Deals damage