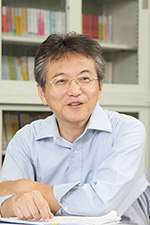 Aya Nishitani (西谷史, Nishitani Aya) is the novelist whose works inspired the creation of the Megami Tensei franchise.
He was born in 1955 and is a graduate of Hokkaido University's economics department. He was inspired to write Digital Devil Story: Megami Tensei while working at an electronic manufacturer. Digital Devil Story was originally written as a serialized piece in Oh!PC magazine and was later developed into a full novel.
This is a list of his works relating to the Megami Tensei franchise. Nishitani, however, has continued to work on other novels outside the series' scope.
According to Suzuhito Yasuda, the character designer for the Devil Survivor series, Aya Nishitani attended the same school as him, making him his upperclassman.
Digital Devil Story was not the only novel by Nishitani that inspired a game. His later released Tokyo Shadow novels were made into a game for the Sega Saturn and Playstation.
Ad blocker interference detected!
Wikia is a free-to-use site that makes money from advertising. We have a modified experience for viewers using ad blockers

Wikia is not accessible if you've made further modifications. Remove the custom ad blocker rule(s) and the page will load as expected.