Ad blocker interference detected!
Wikia is a free-to-use site that makes money from advertising. We have a modified experience for viewers using ad blockers

Wikia is not accessible if you've made further modifications. Remove the custom ad blocker rule(s) and the page will load as expected.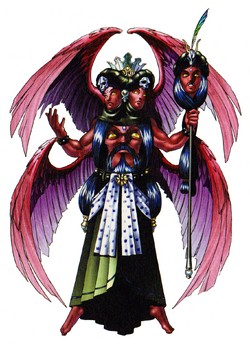 Azrael (アズラエル, Azuraeru)? is a demon in the series.
Azrael (Azraaiyl) is the name of the Archangel of Death in some extrabiblical traditions. He is also referred to as the angel of death in Islamic theology, known as Malak al-maut, earning that title and that duty by assisting God in the creation of Adam, by gathering the clay from the Earth itself.
Although some sources have speculated about a connection between Azrael and the human priest Erza, he is generally depicted as an archangel whose history long predates this figure. Rather than merely representing death personified, Azrael is usually described in Islamic sources as subordinate to the will of God "with the most profound reverence"; when he extracts the soul from a dying person, a good dying person will not feel the pain from the removal of the soul from his body, Azrael removing it with ease, and for those who are bad, the removal of the soul is tough and difficult. In Jewish mysticism he is identified as the embodiment of evil, not necessarily or specifically evil itself. Depending on the outlook and precepts of various religions in which he is a figure, Azrael may be portrayed as residing in the Third Heaven. Riffian (Berber) men of Morocco had the custom of shaving the head but leaving a single lock of hair on either the crown, left, or right side of the head, so that the angel Azrael is able "...to pull them up to heaven of the Last Day."
Appearances
Edit
Shin Megami Tensei: Strange JourneyEdit
"The Islamic angel of death, said to have four faces and four wings.
Azrael has a book in which he inscribes and erases the names of those who are born and die. His body is covered in eyes; when one blinks, someone in the world dies."
—Shin Megami Tensei: Strange Journey Compendium
Azrael appears as a summonable demon and as a NPC in Sector Horologium B6F. Depending upon the alignment of the protagonist when spoken to, he will either praise him (Law Path), or promise revenge (Neutral and Chaos Paths).
Shin Megami Tensei IVEdit
Azrael appears in the New Game Plus Challenge Quest, Death on Wings. He is closing in on Ikebukuro in the alternate world Blasted Tokyo. Azrael is found on the world map and does not speak during the battle. Azrael is faced on the Chaos and Neutral routes in Purgatorium - 4th Crown, where he repeats the same words as all the other angels in the battle.
Devil Summoner: Soul HackersEdit
"The Islamic angel of death, said to have four faces and four wings.
Azrael has a book in which he inscribes and erases the names of those who are born and die. His body is covered in eyes. When one blinks, someone in the world dies."
—Soul Hackers 3DS Compendium
Shin Megami Tensei: Strange JourneyEdit
Race

Alignment

Level

HP

MP

| | | |
| --- | --- | --- |
| Strength | 45 | |
| Magic | 49 | |
| Vitality | 41 | |
| Agility | 40 | |
| Luck | 47 | |

Herald
Light-Law
69
574
327
| Attack Type | | | | | | | | | |
| --- | --- | --- | --- | --- | --- | --- | --- | --- | --- |
| Single Foe/1/Physical/None | - | - | - | Weak | - | - | Null | Null | - |
| Poison | Paralyze | Stone | Strain | Sleep | Charm | Mute | Fear | Bomb | Rage |
| --- | --- | --- | --- | --- | --- | --- | --- | --- | --- |
| - | - | - | - | - | - | - | - | - | - |
D-Source Skills
Ragnarok
Repel Fire
Password
ZY5vX37C9%5XDJHn
2LPA9SiXEd5X9o5O
Shin Megami Tensei IVEdit
Race

Level

HP

MP

| | | |
| --- | --- | --- |
| Strength | 59 | |
| Dexterity | 65 | |
| Magic | 85 | |
| Agility | 55 | |
| Luck | 78 | |

Herald
62
338
328
| Phys | Gun | Fire | Ice | Elec | Force | Light | Dark |
| --- | --- | --- | --- | --- | --- | --- | --- |
| Resist | - | Resist | Weak | - | - | Null | Null |
| | |
| --- | --- |
| Normal Attack | Physical, one hit, one enemy |
List of Skills

Skill
Cost
Effect
Level
Agidyne
14 MP
Heavy fire damage to one foe.
Innate
Samarecarm
40 MP
Revives one dead ally with HP fully restored.
Innate
Mamudoon
30 MP
55% instantly kills all foes. Dark-type.
63
Shin Megami Tensei: Devil SummonerEdit
| Race | Level | HP | MP | St | In | Ma | Ag | Lu |
| --- | --- | --- | --- | --- | --- | --- | --- | --- |
| Herald | 53 | 411 | 281 | 15 | 12 | 20 | 13 | 9 |

| CP | NOA | Personality | P.ATK | P.HIT | B.DEF | AVD | M.ATK | M.DEF |
| --- | --- | --- | --- | --- | --- | --- | --- | --- |
| 78 | 0-2 | Prideful | 138 | 98 | 132 | 97 | 46 | 50 |
Devil Summoner: Soul HackersEdit
| Race | Level | HP | MP | St | In | Ma | En | Ag | Lu |
| --- | --- | --- | --- | --- | --- | --- | --- | --- | --- |
| Herald | 48 | 486 | 224 | 14 | 13 | 19 | 12 | 10 | 11 |

| CP | MAG Summon | Personality | P.ATK | P.HIT | B.DEF | AVD | M.ATK | M.HIT |
| --- | --- | --- | --- | --- | --- | --- | --- | --- |
| 10 | 762 | Calm | 124 | 78 | 136 | 77 | 165 | 44 |
| Reflects | Absorbs | Void | Resists | Weak |
| --- | --- | --- | --- | --- |
| Expel, Death | - | - | - | Strike, Skill |
Megami Ibunroku PersonaEdit
MAtk
MDef

| | | |
| --- | --- | --- |
| Strength | 24 | |
| Vitality | 19 | |
| Dexterity | 14 | |
| Agility | 43 | |
| Luck | 27 | |

133
128
1h
2h
Sp
Ax
Wp
Th
Ar
Fs
HG
MG
SG
Ri
Te
Ru
1.5×
1.5×
2×
1.5×
1.5×
1.5×
1.5×
2×
-
1.5×
-
-
-
2×
Fi
Ic
Wi
Er
El
Nc
Bl
Gr
Ex
Mi
De
Cu
Nr
???
Nu
Nu
Nu
Nu
Nu
Nu
Nu
Nu
Dr
Nu
2×
2×
Nu

2

/

4
List of Skills

Rank
Skill
Effect
1
Wing Flap
Light Rush damage (1 foe)
3
Baikouha
Medium Expel damage each turn (area)
4
Frenzy Song
Inflicts Fear status (area)
5
Recarmdra
Sacrifice life to fully heal party
7
Tarukaja
Raises Attack (all allies)
8
Dark Verdict
Heavy Curse damage (area)
Shin Megami Tensei: Devil Summoner
Azrael in Shin Megami Tensei: Strange Journey
Azrael's portrait in Shin Megami Tensei: Strange Journey
Azrael as it appears in Card Summoner