Ad blocker interference detected!
Wikia is a free-to-use site that makes money from advertising. We have a modified experience for viewers using ad blockers

Wikia is not accessible if you've made further modifications. Remove the custom ad blocker rule(s) and the page will load as expected.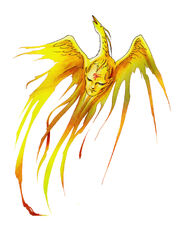 Ba (バー, Bā)? is a demon in the series.
Part of the soul in Egyptian mythology. An aspect of the person that Egyptians believed would live after the body died that is usually depicted as a human headed bird flying out of the tomb to join with the Ka in the afterlife.
Appearances
Edit
Shin Megami Tensei: Devil SummonerEdit
| Race | Level | HP | MP | St | In | Ma | Ag | Lu |
| --- | --- | --- | --- | --- | --- | --- | --- | --- |
| Flight | 7 | 36 | 15 | 5 | 3 | 3 | 7 | 3 |
| CP | NOA | Personality | P.ATK | P.HIT | B.DEF | AVD | M.ATK | M.DEF |
| --- | --- | --- | --- | --- | --- | --- | --- | --- |
| 10 | 1 | Calm | 24 | 18 | 20 | 17 | 7 | 8 |
Megami Ibunroku PersonaEdit
MAtk
MDef

| | | |
| --- | --- | --- |
| Strength | 13 | |
| Vitality | 5 | |
| Dexterity | 8 | |
| Agility | 25 | |
| Luck | 18 | |

45
35
1h
2h
Sp
Ax
Wp
Th
Ar
Fs
HG
MG
SG
Ri
Te
Ru
Nu
Nu
-
Nu
Nu
-
2×
Nu
2.5×
2.5×
2.5×
2.5×
-
-
Fi
Ic
Wi
Er
El
Nc
Bl
Gr
Ex
Mi
De
Cu
Nr
???

2

/

4

2

/

4
Nu
-
1.5×
1.5×

3

/

4
2×
-

2

/

4
-

2

/

4

3

/

4

2

/

4
List of Skills

Skill
Effect
Magaru
Light Wind damage (all foes)

Inheritable Skill

Agi
Light Fire damage (1 foe)

Inheritable Skill

Sweet Trap
Special Phys damage (1 foe)
Wing Flap
Light Rush damage (1 foe)