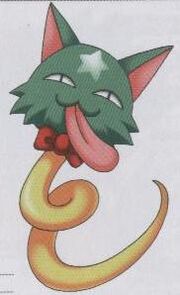 Bahan (バハン, Bahan) is a demon in the series.
Based on Tatzelwurm from Alpine folklore, a creature with a head of a cat and a body of a snake. The name Bahan is a corruption of a German word "bahn" - train. In Germany, elongated structures and vehicles, such as trains, are sometimes referred to as Tatzelwurm.
Appearances
Edit
Devil Children Red/Black BookEdit
Bahan can be obtained by ranking up Nekomata.
Devil Children Red/Black BookEdit
| Class | Element | Type | Exp | Level | HP | MP |
| --- | --- | --- | --- | --- | --- | --- |
| Elite | Dark | Evil | 80 | 14 | 142 | 58 |
| ATK | DEF | MGC | RES | SPD | LCK |
| --- | --- | --- | --- | --- | --- |
| 14 | 11 | 14 | 13 | 13 | 11 |
Devil Children White BookEdit
| Class | Element | Type | Exp | Level | HP | MP |
| --- | --- | --- | --- | --- | --- | --- |
| Elite | Dark | Evil | 80 | 14 | 142 | 58 |
| ATK | DEF | MGC | RES | SPD | LCK |
| --- | --- | --- | --- | --- | --- |
| 14 | 11 | 14 | 13 | 13 | 11 |
Devil Children: Red/Black Book (PS)Edit
| Class | Element | Type | Exp | Level | HP | MP |
| --- | --- | --- | --- | --- | --- | --- |
| Elite | Dark | Evil | 80 | 14 | 142 | 58 |
| ATK | DEF | MGC | RES | SPD | LCK |
| --- | --- | --- | --- | --- | --- |
| 14 | 11 | 14 | 13 | 13 | 11 |