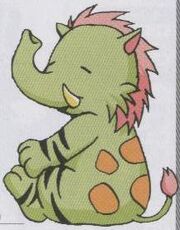 Baku (バク, Baku), or known in China as Mo (貘) is a demon in the series.
Baku are Japanese supernatural beings that devour dreams and nightmares. They have a long history in Japanese folklore and art.
The creature has its origins in ancient China where it is described as shy chimera with the trunk of an elephant, paws of a tiger, eyes of a rhino, tail of an ox. It was said it could protect against evils and pestilence, though there was no mention of it devouring dreams until after it was imported to Japan in the late 17th Century. Today the word Mo can also refer to the Tapir.
Appearances
Edit
DemiKids Light & DarkEdit
Baku can perform the Water combo Acid Rain with Artemis. Baku can only be found in the future.
Megami TenseiEdit
| Race | Level | HP | EXP | Macca | MAG |
| --- | --- | --- | --- | --- | --- |
| Holy | 17 | 110 | 0 | 0 | 0.5 |

| Strength | Intelligence | Hit | Agility | Defense | Location |
| --- | --- | --- | --- | --- | --- |
| 13 | 11 | 12 | 11 | 12 | - |
Kyūyaku Megami TenseiEdit
Megami TenseiEdit
| Race | Level | HP | MP | CP | NOA |
| --- | --- | --- | --- | --- | --- |
| Holy | 17 | 81 | 27 | 17 | 1 |

| Vitality | Intellect | Strength | Speed | Luck | Defense |
| --- | --- | --- | --- | --- | --- |
| 9 | 10 | 12 | 10 | 9 | 9 |
| | |
| --- | --- |
| Resistances | Resist: Bind, Nerve; Null: Expel; Reflect: Death |
List of Skills

Skill
Cost
Effect
Zan
2 MP
Light Force damage (1-2 enemies)
Mediama
6 MP
Medium HP recovery (all allies)
Last BibleEdit
| Level | HP | MP | Endurance |
| --- | --- | --- | --- |
| 4 | 20 | 18 | 9 |

| Intelligence | Strength | Speed | Luck |
| --- | --- | --- | --- |
| 9 | 5 | 7 | 7 |
Devil Children Black/Red BookEdit
| Class | Element | Type | Exp | Level | HP | MP |
| --- | --- | --- | --- | --- | --- | --- |
| Elite | Water | Ghost | | 23 | 241 | 110 |
| ATK | DEF | MGC | RES | SPD | LCK |
| --- | --- | --- | --- | --- | --- |
| 21 | 20 | 21 | 20 | 15 | 19 |
Devil Children Black Book/Red Book (PS)Edit
| Class | Element | Type | Exp | Level | HP | MP |
| --- | --- | --- | --- | --- | --- | --- |
| Elite | Water | Ghost | | 23 | 241 | 110 |
| ATK | DEF | MGC | RES | SPD | LCK |
| --- | --- | --- | --- | --- | --- |
| 21 | 20 | 21 | 20 | 15 | 19 |
Devil Children White BookEdit
| Class | Element | Type | Exp | Level | HP | MP |
| --- | --- | --- | --- | --- | --- | --- |
| Elite | Water | Ghost | | 23 | 241 | 110 |
| ATK | DEF | MGC | RES | SPD | LCK |
| --- | --- | --- | --- | --- | --- |
| 21 | 20 | 21 | 20 | 15 | 19 |
DemiKids Light & DarkEdit
| Class | Element | Type | Exp | Level | HP | MP |
| --- | --- | --- | --- | --- | --- | --- |
| Elite | Water | Ghost | 235 | 24 | 248 | 114 |

| ATK | DEF | MGC | RES | SPD | LCK |
| --- | --- | --- | --- | --- | --- |
| 22 | 21 | 22 | 20 | 15 | 19 |
List of Skills

Skill
Element
Cost
Effect
Aqua Flood
Water
20 HP
Small dmg. 2 Foes
Venom Foam
Water
20 HP
Small dmg +Confuse. 1 Foe
Slumber
Earth
6 MP
Sleep. 1 Foe
Defdrain
Dark
5 MP
DEF Down. Foes
Healmor
Light
10 MP
Minor HP recovery. 1 Ally
Aquadeus
Water
8 MP
Small dmg. 2 Foes
Devil Children Fire/Ice BookEdit
| Class | Element | Type | Exp | Level | HP | MP |
| --- | --- | --- | --- | --- | --- | --- |
| Elite | Water | Ghost | 235 | 24 | 248 | 114 |

| ATK | DEF | MGC | RES | SPD | LCK |
| --- | --- | --- | --- | --- | --- |
| 22 | 21 | 22 | 20 | 15 | 19 |
List of Skills

Aqua Flood
Poisoned Bubbles
Dormina
Rakunda
Diarama
Mahaaqua