Ad blocker interference detected!
Wikia is a free-to-use site that makes money from advertising. We have a modified experience for viewers using ad blockers

Wikia is not accessible if you've made further modifications. Remove the custom ad blocker rule(s) and the page will load as expected.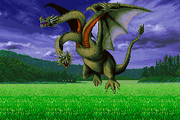 Balaur (バレフール?) is a demon in the series.
A Romanian dragon similar to other Western dragons. It is very large, has fins, three to twelve heads, and it is believed that it's saliva can create precious stones. Balaur represents evil and must be defeated by the knight Fat-Frumos to free the princess.
Appearances
Edit
Megami TenseiEdit
Kyūyaku Megami TenseiEdit
Megami TenseiEdit
| Race | Level | HP | MP | VIT | INT | STR | SPD | LUC | DEF |
| --- | --- | --- | --- | --- | --- | --- | --- | --- | --- |
| Wilder | 35 | 215 | - | 12 | 12 | 11 | 16 | 11 | 9 |
Swd
Gun
Fir
Ice
Elc
Exp
For
Bnd
Crs
Nrv
Mnd

6

/

8
-
-
-
-

3

/

8
-
-

6

/

8
-
-
List of Spells

Skill
Cost
Effect
Roar
Extra
Damage + Bind to all enemies
Last Bible IIIEdit
| Level | HP | MP | ATK | DEF | STR | INT | END | SPD | LUC |
| --- | --- | --- | --- | --- | --- | --- | --- | --- | --- |
| 19 | 150 | 60 | 71 | 26 | 12 | 10 | 13 | 12 | 11 |

| | | | |
| --- | --- | --- | --- |
| Equipment | Weapon, Accessory | Card Location | Gotland - Basement |
Majin TenseiEdit
| Race | Level | HP | MP | Mv Range | Mv Type | Atk Type | CP |
| --- | --- | --- | --- | --- | --- | --- | --- |
| Drake | 42 | 472 | - | 8 | Flight | Poison | - |

| Strength | Magic | Technique | Defense | Agility | Luck |
| --- | --- | --- | --- | --- | --- |
| 21 | 6 | 19 | 10 | 10 | 5 |