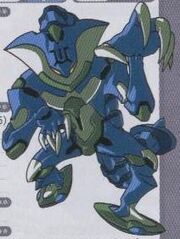 Barbiel (バルビエル, Barubieru) is a demon in the series.
The Angel of October who is associated with the zodiac sign Scorpio. He is a prince of both Archangels and Virtues.
Appearances
Edit
DemiKids Light & DarkEdit
"A demon who turned from Good to evil. Currently rules over the House of Scorpio."
Known as Scorpio
DemiKids: Light & DarkEdit
| Class | Element | Type | Exp | Level | HP | MP |
| --- | --- | --- | --- | --- | --- | --- |
| Elite | Ice | Holy | | 52 | 558 | 249 |

| ATK | DEF | MGC | RES | SPD | LCK |
| --- | --- | --- | --- | --- | --- |
| 52 | 53 | 50 | 49 | 55 | 48 |
List of Skills

Skill
Element
Cost
Effect
Subzero
Ice
35 HP
Medium dmg +Freeze. Foes
Holy Blast
Light
60 HP
Large dmg. Foes
Ice Breath
Ice
23 HP
Small dmg +Freeze. 2 Foes
Polarmax
Ice
45 MP
Large dmg x2 +Freeze. Foes
Spellblock
Light
12 MP
Spell Reflect. Self
Resurrect
Light
25 MP
Revive +Max HP. 1 Ally
Devil Children Fire/Ice BookEdit
| Class | Element | Type | Exp | Level | HP | MP |
| --- | --- | --- | --- | --- | --- | --- |
| Elite | Ice | Holy | | 52 | 558 | 249 |

| ATK | DEF | MGC | RES | SPD | LCK |
| --- | --- | --- | --- | --- | --- |
| 52 | 53 | 50 | 49 | 55 | 48 |
List of Skills

Gokkantouketsu
Light Blast
Ice Breath
Mabufudyne
Makarakarn
Samarecarm
Devil Children Messiah RiserEdit
| Number | Element | Weakness | Type | Level | HP | MP |
| --- | --- | --- | --- | --- | --- | --- |
| 23 | Ice | Fire | Holy | 25 | 260 | 150 |
| ATK | MGC | DEF | RES | SPD | Quick | Call | Spell |
| --- | --- | --- | --- | --- | --- | --- | --- |
| 26 | 4 | 5 | 2 | 10 | 33 | 21 | Magukaja |