Ad blocker interference detected!
Wikia is a free-to-use site that makes money from advertising. We have a modified experience for viewers using ad blockers

Wikia is not accessible if you've made further modifications. Remove the custom ad blocker rule(s) and the page will load as expected.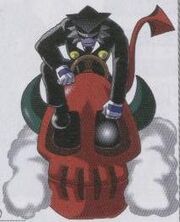 Bathin (バシン, Bashin) is a demon in the series.
In demonology, Bathin is a Duke (Great Duke according to Pseudomonarchia Daemonum) of Hell and 18th spirit of the Goetia, who has under his command thirty legions of demons. He is depicted as a strong man with the tail of a serpent, riding a pale horse. Bathin knows the virtues of precious stones and herbs, and can bring men suddenly from one country to another. He helps one attain astral projection, and takes you where ever you want to go. According to the Grand Grimoire, he is a direct subordinate of Fleurety.
Appearances
Edit
Devil Children: Black/Red BookEdit
| Class | Element | Type | Exp | Level | HP | MP |
| --- | --- | --- | --- | --- | --- | --- |
| General | Wind | Evil | | 27 | 287 | 129 |
| ATK | DEF | MGC | RES | SPD | LCK |
| --- | --- | --- | --- | --- | --- |
| 24 | 23 | 26 | 22 | 23 | 19 |
Devil Children: White BookEdit
| Class | Element | Type | Exp | Level | HP | MP |
| --- | --- | --- | --- | --- | --- | --- |
| General | Wind | Evil | | 27 | 287 | 129 |
| ATK | DEF | MGC | RES | SPD | LCK |
| --- | --- | --- | --- | --- | --- |
| 24 | 23 | 26 | 22 | 23 | 19 |
Devil Children Red/Black Book (PS)Edit
| Class | Element | Type | Exp | Level | HP | MP |
| --- | --- | --- | --- | --- | --- | --- |
| General | Wind | Evil | | 27 | 287 | 129 |
| ATK | DEF | MGC | RES | SPD | LCK |
| --- | --- | --- | --- | --- | --- |
| 24 | 23 | 26 | 22 | 23 | 19 |