Belphegor
Talk

1
3,750pages on
this wiki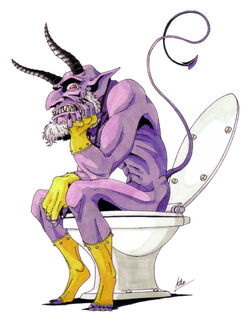 "

My name is Belphegor... the seeker of harmony on Earth, and Duke of Hell presiding over indolence...

"
—Belphegor, Persona 2: Innocent Sin
Belphegor (ベルフェゴール), also known as Phegor (フェゴール, Fegooru) in Devil Children, is a demon in the series.
Belphegor is a demon of Sloth, one of the 7 Deadly Sins. His name is a corruption of Baal-Peor, the name for the god of the Moabites. Belphegor gives people ideas for inventions that will make them rich and thus greedy and selfish. Sometimes is portrayed as a beautiful woman, but other times is portrayed as a monstrous, horned demon. Some claim that he must be worshiped on a toilet, thus we get his design in the Shin Megami Tensei games.
Appearances
Edit
Megami Tensei IIEdit
Belphegor is an extra boss found in Belphegor's Tower, a dungeon which can only be reached if the hero has its key, which he receives after returning the lost kid found in Moloch's Temple. After his defeat, the hero obtains the Vajra, the best weapon for the Partner. He is later fought in the final dungeon, Suzuki Company Ltd., right before Satan.
Majin Tensei II: Spiral NemesisEdit
Belphegor is fought on the Neutral Route after beating Lucifer, where he guards the base in the mountainous area of Elleth.
Devil Children: Red/Black/White BookEdit
Belphegor alongside his brothers Zebul and Berith are bonus bosses in the Deep Hole. He can be recruited after his defeat.
DemiKids: Light & DarkEdit
"

A deceptively powerful demon who leaves a horrible trail of victims in his wake.

"
—DemiKids Demonary
Phegor, like his brothers Zebul and Verrito, can be found in the Deep Hole as recruitable Bonus Bosses.
Devil Children: Fire & Ice BookEdit
Before the story began Phegor was kidnapped and sealed away by the demons of Fire and Light from Muspelheim. The Fake one would later seal away the real Zebul. When Akira defeats the Fake Berith he would express shock and stand in his way to prevent him from meeting the Fake Zebul. After his defeat he would transform into his true demonic form and disappear. Like the other Fake Brothers the difference between the real one and fake one is the skin tone and face.
Persona 4
Edit
"

Demonic governer of the deadly sin of sloth, who also excels at invention and discovery. May derive from Ba'al Pe'or, Syrian god of abundant crops.

"
—Persona 4 Compendium
A persona that specializes in Electric Skills, Belphegor is one of the persona that can be awarded by Shuffle Time in Magatsu Inaba.
Megami Tensei IIEdit
| Formations | CP | Macca | Item Drops |
| --- | --- | --- | --- |
| 1 | 160 | 1920 | - |

| Stamina | Intelligence | Attack | Agility | Defense | Luck |
| --- | --- | --- | --- | --- | --- |
| 25 | 33 | 14 | 14 | 29 | 18 |
Shin Megami Tensei IIEdit
| Strength | Intelligence | Magic | Stamina | Agility | Luck |
| --- | --- | --- | --- | --- | --- |
| 18 | 16 | 20 | 16 | 10 | 8 |

| NOH | Attack | Hit | Defense | Avoid | MPower | MEffect |
| --- | --- | --- | --- | --- | --- | --- |
| 1-3 | 136 | 91 | 132 | 91 | 24 | 21 |
Majin Tensei 2: Spiral NemesisEdit
| Race | Level | HP | MP | Movement | Move Type | Range |
| --- | --- | --- | --- | --- | --- | --- |
| Fallen | 77 | 390 | 200 | 8 | Flight | 1 |

| Strength | Wisdom | Magic | Defense | Agility | Luck | MAG |
| --- | --- | --- | --- | --- | --- | --- |
| 24 | 18 | 32 | 28 | 27 | 12 | 1110 |

| Attack | Phys Defense | Magic Attack | Magic Defense | Hit | Avoid | Critical |
| --- | --- | --- | --- | --- | --- | --- |
| 106 | 70 | 114 | 69 | 102 | 19 | 26 |
Devil Summoner: Raidou Kuzunoha vs. King AbaddonEdit
As an AllyEdit
| Level | Order | HP | ST | MA | VI | LU | Conversation | Investigation |
| --- | --- | --- | --- | --- | --- | --- | --- | --- |
| 71 | Skill | 777 | 22 | 27 | 24 | 17 | Panic Urge | Transform/Demonstrate |
| Resists | Block | Absorbs | Weak | Frail |
| --- | --- | --- | --- | --- |
| Gun, Force | Ice, Mind | - | - | Fire |
List of Skills

Skill
Cost
Effect
Level
Wind Cutter
34 MAG
Heavy Piercing multi-hit Force dmg. Stun: Med
-
Glacial Blast
34 MAG
Heavy Piercing multi-hit Ice dmg. Stun:Med
2
Mad Rush
28 MAG
Medium Phys dmg, dash attack +Dizzy(Low)
73
Null Mortal
-
Prevents instant death
Max Loyalty
As a BossEdit
| Level | Order | HP | ST | MA | VI | LU | Conversation | Investigation |
| --- | --- | --- | --- | --- | --- | --- | --- | --- |
| 56 | Skill | 12800 | 18 | 40 | 22 | 10 | - | - |
| Resists | Block | Absorbs | Weak | Frail |
| --- | --- | --- | --- | --- |
| - | Death, Mind, Gun | - | - | Force |
List of Skills

Skill
Cost
Effect
Level
Megido
-
Heavy Almighty dmg to an area
-
Giten Megami TenseiEdit
| CP | Intuition | Will Power | Magic | Intelligence | Divine Protection |
| --- | --- | --- | --- | --- | --- |
| 75 | 44 | | 47 | 30 | 33 |
| Strength | Stamina | Agility | Dexterity | Charm |
| --- | --- | --- | --- | --- |
| 73 | 68 | 52 | 23 | 59 |
Persona 4
Edit
| Inherit | Resists | Block | Absorbs | Reflects | Weak |
| --- | --- | --- | --- | --- | --- |
| Electricity | - | - | Electricity | Dark | Light |
List of Skills

Skill
Cost
Effect
Level
Maziodyne
22 SP
Large amount of Electricity damage. All foes.
Innate
Evil Smile
12 SP
25% chance of inflicting Fear status. All foes.
Innate
Marakunda
24 SP
Decreases Defense for 3 turns. All foes.
63
Fear Boost
Passive
Fear-based attacks become 50% more effective
64
Old One
12 SP
25% chance of inflicting Enervation status. All foes.
65
Enervate Boost
Passive
Enervation-based attacks become 50% more effective
66
Elec Amp
Passive
Increases Electricity damage by 50%
67
Devil Children: Black/Red BookEdit
| Class | Element | Type | Exp | Level | HP | MP |
| --- | --- | --- | --- | --- | --- | --- |
| King | Dark | Boss | 1752 | 53 | 580 | 255 |
| ATK | DEF | MGC | RES | SPD | LCK |
| --- | --- | --- | --- | --- | --- |
| 53 | 50 | 52 | 51 | 51 | 49 |
List of Skills

Gokkantouketsu
Zantetsuha
Makafuji
Dark Spear
Tarunda
Mahamagna
Devil Children Black Book/Red Book (PS)Edit
| Class | Element | Type | Exp | Level | HP | MP |
| --- | --- | --- | --- | --- | --- | --- |
| King | Dark | Boss | 1752 | 53 | 580 | 255 |
| ATK | DEF | MGC | RES | SPD | LCK |
| --- | --- | --- | --- | --- | --- |
| 53 | 50 | 52 | 51 | 51 | 49 |
List of Skills

Gokkantouketsu
Zantetsuha
Makafuji
Dark Spear
Tarunda
Mahamagna
Devil Children: White BookEdit
| Class | Element | Type | Exp | Level | HP | MP |
| --- | --- | --- | --- | --- | --- | --- |
| King | Dark | Boss | 1752 | 53 | 580 | 255 |
| ATK | DEF | MGC | RES | SPD | LCK |
| --- | --- | --- | --- | --- | --- |
| 53 | 50 | 52 | 51 | 51 | 49 |
List of Skills

Gokkantouketsu
Zantetsuha
Makafuji
Dark Spear
Tarunda
Mahamagna
DemiKids: Light & DarkEdit
| Class | Element | Type | Exp | Level | HP | MP |
| --- | --- | --- | --- | --- | --- | --- |
| King | Dark | Boss | | 53 | 580 | 255 |

| ATK | DEF | MGC | RES | SPD | LCK |
| --- | --- | --- | --- | --- | --- |
| 53 | 50 | 52 | 51 | 51 | 49 |
List of Skills

Skill
Element
Cost
Effect
Subzero
Ic
35 HP
Medium dmg +Mute. Foes
Frenzy
Dark
20 HP
Hit x4. Random
Speed Stab
Dark
25 HP
No DEF Small dmg +Mute. 1 Foe
Dark Spear
Dark
5 HP
-30% HP. 1 Foe
Venom Breath
Dark
35 HP
Large dmg +Poison. Foes
Polarmax
Ice
45 MP
Large dmg x2. Foes
Devil Children Fire/Ice BookEdit
Version 1Edit
| Class | Element | Type | Exp | Level | HP | MP |
| --- | --- | --- | --- | --- | --- | --- |
| King | Dark | Boss | | 53 | 580 | 255 |

| ATK | DEF | MGC | RES | SPD | LCK |
| --- | --- | --- | --- | --- | --- |
| 53 | 50 | 52 | 51 | 51 | 49 |
List of Skills

Gokkantouketsu
Ooabare
Purinpadyne
Dark Spear
Poison Gas Breath
Mahabufudyne
Version 2Edit
| Class | Element | Type | Exp | Level | HP | MP |
| --- | --- | --- | --- | --- | --- | --- |
| King | Dark | Boss | 1000 | 35 | 365 | 193 |

| ATK | DEF | MGC | RES | SPD | LCK |
| --- | --- | --- | --- | --- | --- |
| 32 | 34 | 34 | 32 | 30 | 24 |
List of Skills

Ooabare
Dark Spear
Double Vice
Poison Gas Breath
Gokkantouketsu
Mahabufudyne