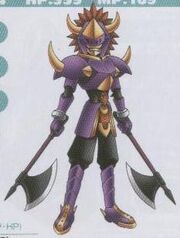 Black Rajah (ブラックラジャー, Burakkurajaa) is a demon in the series.
Black Rajah is the name of a species of butterfly found in Asia.
Possibly based on Parashurama of Hindu mythology, the sixth avatar of Vishnu who used an axe for a weapon.
Appearances
Edit
Devil Children Red/Black BookEdit
Black Rajah can be found in Forest Land's Shitsugen no Mori.
Devil Children: Black/Red BookEdit
| Class | Element | Type | Exp | Level | HP | MP |
| --- | --- | --- | --- | --- | --- | --- |
| Elite | Thunder | Evil | | 34 | 359 | 169 |
| ATK | DEF | MGC | RES | SPD | LCK |
| --- | --- | --- | --- | --- | --- |
| 33 | 31 | 31 | 27 | 24 | 27 |
Devil Children: White BookEdit
| Class | Element | Type | Exp | Level | HP | MP |
| --- | --- | --- | --- | --- | --- | --- |
| Elite | Thunder | Evil | | 34 | 359 | 169 |
| ATK | DEF | MGC | RES | SPD | LCK |
| --- | --- | --- | --- | --- | --- |
| 33 | 31 | 31 | 27 | 24 | 27 |
Devil Children Black Book/Red Book (PS)Edit
| Class | Element | Type | Exp | Level | HP | MP |
| --- | --- | --- | --- | --- | --- | --- |
| Elite | Thunder | Evil | | 34 | 359 | 169 |
| ATK | DEF | MGC | RES | SPD | LCK |
| --- | --- | --- | --- | --- | --- |
| 33 | 31 | 31 | 27 | 24 | 27 |