Ad blocker interference detected!
Wikia is a free-to-use site that makes money from advertising. We have a modified experience for viewers using ad blockers

Wikia is not accessible if you've made further modifications. Remove the custom ad blocker rule(s) and the page will load as expected.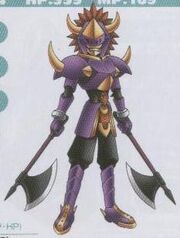 Black Rajah (ブラックラジャー, Burakkurajaa) is a demon in the series.
Black Rajah is the name of a species of butterfly found in Asia.
Possibly based on Parashurama of Hindu mythology, the sixth avatar of Vishnu who used an axe for a weapon.
Appearances
Edit
Devil Children Red/Black BookEdit
Black Rajah can be found in Forest Land's Shitsugen no Mori.
Devil Children: Black/Red BookEdit
| Class | Element | Type | Exp | Level | HP | MP |
| --- | --- | --- | --- | --- | --- | --- |
| Elite | Thunder | Evil | | 34 | 359 | 169 |
| ATK | DEF | MGC | RES | SPD | LCK |
| --- | --- | --- | --- | --- | --- |
| 33 | 31 | 31 | 27 | 24 | 27 |
Devil Children: White BookEdit
| Class | Element | Type | Exp | Level | HP | MP |
| --- | --- | --- | --- | --- | --- | --- |
| Elite | Thunder | Evil | | 34 | 359 | 169 |
| ATK | DEF | MGC | RES | SPD | LCK |
| --- | --- | --- | --- | --- | --- |
| 33 | 31 | 31 | 27 | 24 | 27 |
Devil Children Black Book/Red Book (PS)Edit
| Class | Element | Type | Exp | Level | HP | MP |
| --- | --- | --- | --- | --- | --- | --- |
| Elite | Thunder | Evil | | 34 | 359 | 169 |
| ATK | DEF | MGC | RES | SPD | LCK |
| --- | --- | --- | --- | --- | --- |
| 33 | 31 | 31 | 27 | 24 | 27 |