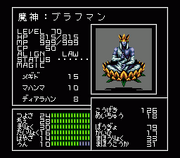 Brahman (ブラフマン, Burafuman)? is a demon in the series.
History
In Hindu teachings, Brahman is absolute. It governs everything. The essence of Brahman is found within all souls and is considered to the foundation of everything. Brahman is eternal, omnipotent, omniscient and omnipresent far beyond the understanding of the human mind. If it so desired, Brahman could shape the universe and reality in any way it pleased, or destroy it completely.
While all beings contain the essence of Brahman, the most notable characters in Hinduism to actually personify him are Brahma, Vishnu and Shiva. These are three forms of the same entity. Brahma is widely considered to be the avatar of Brahman as creator, Vishnu as preserver and Shiva as destroyer.
Appearances
Profile
Megami Tensei II
In the Kyūyaku version of Megami Tensei II, Brahman was replaced with Brahma.
Devil Children White Book
The church of Brahman is found in the Wind Expanse, where he is worshiped by the Hindu demons who live there. His temple holds a secret path to the Wind Temple. Kali serves as a priestess.
Strategy
Digital Devil Saga: Avatar Tuner 2
He is fought in five phases, one after another without intermission. Each phase possesses five turn icons, 3500 HP (except for the last one, which has 6000 HP), absorbs one of the five elements, and has a different set of skills.
Brahman in phases 1 to 4 will not change immediately when the player has subtracted all his remaining HP. They will wait until all of the player's turn icons for that turn have been used up. If elemental barrier skills are used, it is wise to decide the one that can counter the next phase when the damage figure on Brahman is red instead of white, indicating his HP is low already.
In its final phase, after Brahman has used Eternal Zero, it will be always followed by Marevert until any teammate has been reverted to human form, then Brahman will use Revert on the remaining teammate who is still in demon form. After this turn, the player should immediately use Dekaja Rocks and Dekunda to negate all the buffs and debuffs from both sides and recast buffs and/or debuffs to turn the tide.
One of Brahman's unique skills, Brahma Sutra, is a mispelling of Brahmastra, the godly weapon created by Brahma.
Stats
Megami Tensei II
| Stamina | Intelligence | Attack | Agility | Luck | Defense |
| --- | --- | --- | --- | --- | --- |
| 14 | 21 | 12 | 8 | 8 | 21 |
Shin Megami Tensei
| CP | NOA | ATK | ACC | DEF | EVA | M.ATK | M.EFC |
| --- | --- | --- | --- | --- | --- | --- | --- |
| 50 | 1 | 126 | 18 | 79 | 17 | 33 | 31 |

| | | |
| --- | --- | --- |
| St | 24 | |
| In | 28 | |
| Ma | 30 | |
| Vi | 16 | |
| Ag | 14 | |
| Lu | 10 | |
List of Skills

Skill
Cost
Effect
Megido
15 MP
Hits a group of enemies with non-elemental damage.
Mahama
10 MP
Eliminates a group of enemies with the power of light.
Diarahan
8 MP
Completely restores one ally's HP.
Digital Devil Saga: Avatar Tuner 2
Gallery
Artwork of DDS Brahman.
Brahman as he appears at the end of Digital Devil Saga 2
Close up of the
prayer wheel
on each head of Brahman in
Digital Devil Saga 2
.
Ad blocker interference detected!
Wikia is a free-to-use site that makes money from advertising. We have a modified experience for viewers using ad blockers

Wikia is not accessible if you've made further modifications. Remove the custom ad blocker rule(s) and the page will load as expected.