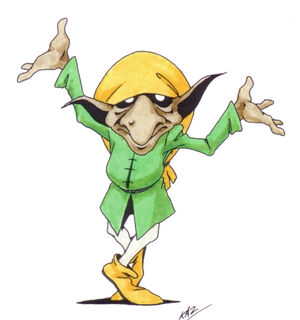 Brownie (ブラウニー?) is a demon in the series.
Brownies are a type of fairy or elf that are popular in Scotland and England's lore.
Appearances
Edit
Shin Megami TenseiEdit

"Origin: England. They are small fairies who help with chores. If you leave milk and bread for them, they will do housework for you during the night. But, if you do any more than that, they will leave your home."
—Shin Megami Tensei A-Mode DDS Dictionary
Shin Megami TenseiEdit
| CP | NOA | ATK | ACC | DEF | EVA | M.ATK | M.EFC |
| --- | --- | --- | --- | --- | --- | --- | --- |
| 2 | 2 | 8 | 8 | 15 | 8 | 8 | 9 |

| | | |
| --- | --- | --- |
| St | 2 | |
| In | 8 | |
| Ma | 7 | |
| Vi | 7 | |
| Ag | 7 | |
| Lu | 6 | |
| | | | |
| --- | --- | --- | --- |
| Resistances | Weak to Force, magic, and Almighty | Drop | Dis-Poison |
List of Skills

Skill
Cost
Effect
Sukukaja
2 MP
Raises the hit-rate of all party members.
Sukunda
2 MP
Reduces the enemies' hit rate.
Happy Step
Extra
Makes a group of enemies happy. (Magic-type)
Last Bible IIIEdit
| Level | HP | MP | ATK | DEF | STR | INT | END | SPD | LUC |
| --- | --- | --- | --- | --- | --- | --- | --- | --- | --- |
| 1 | 22 | 10 | 7 | 8 | 7 | 10 | 8 | 7 | 9 |
Majin Tensei II: Spiral NemesisEdit
| Race | Level | HP | MP | Mv Range | Mv Type | Atk Range | MAG |
| --- | --- | --- | --- | --- | --- | --- | --- |
| Jirae | 6 | 35 | 0 | 5 | Walk | 1 | 60 |

| St | Ma | In | Ag | Lu | Atk | P.Def | M.Atk | M.Def | Hit | Eva | Crt |
| --- | --- | --- | --- | --- | --- | --- | --- | --- | --- | --- | --- |
| 6 | 5 | 4 | 3 | 7 | 16 | 10 | 2 | 7 | 83 | 4 | 13 |
List of Skills

Skill
Power
Range
Cost
Target
Effect
Bite
100%
1
P. Extra
Single
70% chance to inflict Close
Bomb Throw
100%
2
P. Extra
Single
Deals damage
Revival
-
0-1
Extra
Multi
Recover Extra skills before the full moon
Giten Megami Tensei: Tokyo MokushirokuEdit
| Race | Alignment | Level | HP | MP | CP |
| --- | --- | --- | --- | --- | --- |
| Jirae | Neutral-Neutral | 4 | 33 | 20 | 8 |

| Intuition | Will Power | Magic | Intelligence | Divine Protection |
| --- | --- | --- | --- | --- |
| 6 | 6 | 5 | 6 | 9 |

| Strength | Stamina | Agility | Dexterity | Charm |
| --- | --- | --- | --- | --- |
| 8 | 7 | 15 | 15 | 5 |
Devil Children (PS)Edit
| Class | Type | Race | Level | HP | MP | Exp |
| --- | --- | --- | --- | --- | --- | --- |
| Common | Earth | Fiend | 24 | 248 | 120 | 244 |
| Attack | Guard | Magic | M Guard | Speed | Luck |
| --- | --- | --- | --- | --- | --- |
| 24 | 19 | 23 | 20 | 28 | 23 |