Ad blocker interference detected!
Wikia is a free-to-use site that makes money from advertising. We have a modified experience for viewers using ad blockers

Wikia is not accessible if you've made further modifications. Remove the custom ad blocker rule(s) and the page will load as expected.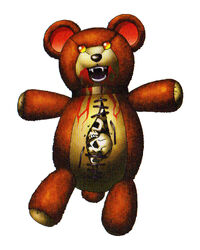 Bugs (バグス?) and Bugbear (バグベア?) is a demon in the series.
Bugbear is a type of Hobgoblin that is comparable to Boogeyman and Bugaboo in folklore. Bugbear was used to frighten children into obeying their parents. Its name is derived from the Celtic word bug which means "evil spirit" or "goblin". In lore the Bugbear was depicted as a creepy bear that lurked in the woods to scare children.
Appearances
Edit
Devil Summoner: Soul HackersEdit
Bugs is one of the demons that fight alongside Erika Sako in the boss fight against her.
Kyūyaku Megami TenseiEdit
Megami Tensei IIEdit
| Race | Level | HP | MP | VIT | INT | STR | SPD | LUC | DEF |
| --- | --- | --- | --- | --- | --- | --- | --- | --- | --- |
| Jaki | 10 | 43 | 17 | 8 | 7 | 7 | 6 | 6 | 1 |
List of Spells

Skill
Cost
Effect
Zio
3 MP
Light Elec damage (1-3 enemies)
Devil Summoner: Soul HackersEdit
| Race | Level | HP | MP | St | In | Ma | En | Ag | Lu |
| --- | --- | --- | --- | --- | --- | --- | --- | --- | --- |
| Wilder | 34 | 1093 | 192 | 16 | 5 | 7 | 11 | 4 | 8 |

| P.ATK | P.HIT | B.DEF | AVD | M.ATK | M.HIT |
| --- | --- | --- | --- | --- | --- |
| 100 | 55 | 106 | 55 | 59 | 16 |
| Reflects | Absorbs | Void | Resists | Weak |
| --- | --- | --- | --- | --- |
| - | - | Death, Mind, Nerve | Ice, Elec, Force, Expel, Curse, Phys | Fire |