Ad blocker interference detected!
Wikia is a free-to-use site that makes money from advertising. We have a modified experience for viewers using ad blockers

Wikia is not accessible if you've made further modifications. Remove the custom ad blocker rule(s) and the page will load as expected.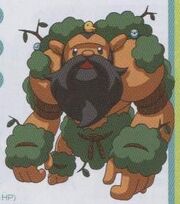 Bran (ブラン, Buran) is a demon in the series.
Bran the Blessed is a giant king from Welsh mythology. He allows the Irish King Matholwch to marry his sister Branwen, and attempts to appease him with a magic cauldron after Efnysien kills Matholwch's horse. Bran would later oppose Matholwch after his sister sends for help thanks to being mistreated as a result of Efnysien's insults to the Irish.
Appearances
Edit
Devil Children White BookEdit
| Class | Element | Type | Exp | Level | HP | MP |
| --- | --- | --- | --- | --- | --- | --- |
| Common | Wind | Fiend | 630 | 39 | 415 | 183 |
| ATK | DEF | MGC | RES | SPD | LCK |
| --- | --- | --- | --- | --- | --- |
| 39 | 40 | 30 | 30 | 30 | 32 |
List of Skills

Saigo no Ichigeki
Chikaratame
Ooabare
Midare Uchi
Countdown
Mega Cyclone