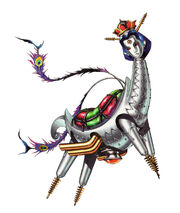 Buraq (ブラーク?) is a demon appearing in the series.
Appearances
Edit
Borak, or Buroq, is the mythological steed which carried Muhammad to Jerusalem from Mecca and back again during the Night Journey. Borak is described as a white beast resembling a mule or donkey with wings upon its back and can instantaneously step to a location anywhere within its sight.
Devil Summoner: Soul HackersEdit
"The holy beast that the prophet Mohammed rode on his journey to heaven and hell. It has a body like a horse, the face of a woman, donkey ears, and a beautiful tail, like a peacock. Its body glows silver and is decorated with diamonds and emeralds. It is said that after returning from traveling with Mohammed, it still managed to catch a pot that had started to fall before it departed on its journey."
—Devil Summoner: Soul Hackers 3DS Compendium
Devil Summoner: Soul HackersEdit
| Race | Level | HP | MP | CP | MAG Summon |
| --- | --- | --- | --- | --- | --- |
| Holy | 22 | 219 | 58 | 3 | 174 |

| Strength | Intelligence | Magic | Endurance | Agility | Luck |
| --- | --- | --- | --- | --- | --- |
| 8 | 5 | 4 | 8 | 10 | 6 |
| Personality | Phys Attack | Phys Hit | Mgc Attack | Mgc Hit | Base Defense | Avoid |
| --- | --- | --- | --- | --- | --- | --- |
| Calm | 60 | 36 | 37 | 14 | 76 | 36 |
| Resist | Void | Absorb | Reflect | Weak |
| --- | --- | --- | --- | --- |
| - | - | - | Expel | Death |