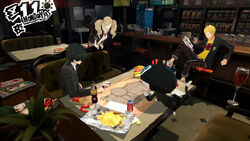 Cafe Leblanc (純喫茶ルブラン, Junkissa Ruburan)? is a location in Persona 5.
Appearances
Edit
Persona 5Edit
The protagonist lives in a coffee shop in Yongen-Jaya owned by Sojiro Sakura, an acquaintance of his parents, where he and his friends plan their heists after a certain point in the game. The protagonist's room is in the attic. Morgana also lives here.
Areas of interest (ground floor)
Edit
TV
Coffee
Booth
Crossword Puzzle
Refrigerator
Phone (can call Sadayo Kawakami)
Areas of interest (attic)
Edit
Bed - Sleep and progress to the next day
TV - Buy items from Tanaka's Amazing Commodities when available, watch a rented DVD, or play a video game. Sometimes, a quiz show may appear and answering correctly will boost a stat.
Wooden beam - Train to increase max HP
Desk - The player can craft tools
Plant - Can be fed nutrients about once a week to obtain kindness. The best fertilizer, located in Shinjuku, can raise 3 points.
Shelf - The player can customize the room with 18 items and 5 dolls by examining the shelf when they have an item. These include:
Persona 5 The Animation The Day Breakers Edit
The Phantom Thieves of Hearts use Cafe Leblanc to lure in Kazuya Makigami and his gang. They leave a calling card for Kazuya, and set off an alarm that the Protagonist got from Munehisa Iwai when they come to rob the store, causing the gang to panic and run away.
Likely named in reference to Maurice LeBlanc, the author of the Arsène Lupin stories.
Ad blocker interference detected!
Wikia is a free-to-use site that makes money from advertising. We have a modified experience for viewers using ad blockers

Wikia is not accessible if you've made further modifications. Remove the custom ad blocker rule(s) and the page will load as expected.