Ad blocker interference detected!
Wikia is a free-to-use site that makes money from advertising. We have a modified experience for viewers using ad blockers

Wikia is not accessible if you've made further modifications. Remove the custom ad blocker rule(s) and the page will load as expected.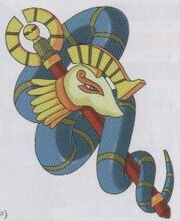 Canhel (カンケル, Kankeru) is a demon in the series.
In the cosmogonic Mayan myths, of Yucatán, the plumed serpent also appears as vital energy giving birth to the world and is called Canhel, "Serpent or Dragon", related to rain and primordial water (chaos or mother-space), the original material (prima materia) from which the world emerges.
Appearances
Edit
Devil Children: Black/Red BookEdit
| Class | Element | Type | Exp | Level | HP | MP |
| --- | --- | --- | --- | --- | --- | --- |
| General | Light | Good | 704 | 41 | 443 | 187 |
| ATK | DEF | MGC | RES | SPD | LCK |
| --- | --- | --- | --- | --- | --- |
| 38 | 36 | 36 | 37 | 35 | 35 |
Devil Children Black Book/Red Book (PS)Edit
| Class | Element | Type | Exp | Level | HP | MP |
| --- | --- | --- | --- | --- | --- | --- |
| General | Light | Good | 704 | 41 | 443 | 187 |
| ATK | DEF | MGC | RES | SPD | LCK |
| --- | --- | --- | --- | --- | --- |
| 38 | 36 | 36 | 37 | 35 | 35 |
Devil Children: White BookEdit
| Class | Element | Type | Exp | Level | HP | MP |
| --- | --- | --- | --- | --- | --- | --- |
| General | Light | Good | 704 | 41 | 443 | 187 |
| ATK | DEF | MGC | RES | SPD | LCK |
| --- | --- | --- | --- | --- | --- |
| 38 | 36 | 36 | 37 | 35 | 35 |