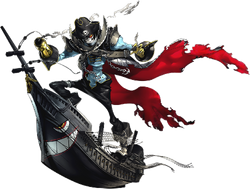 "You made me wait quite a while. You seek power, correct? Then let us form a pact. Since your name has been disgraced already, why not hoist the flag and wreak havoc...? The "other you" who exists within desires it thus...I am thou, thou art I...There is no turning back...The skull of rebellion is your flag henceforth!"
—Captain Kidd, Persona 5
Captain Kidd (キャプテン・キッド, Kyaputen Kiddo)? is a Persona in Persona 5.
William Kidd was a Scottish pirate and privateer in the 17th century. His early career was spent in the Carribean, where he aided the besieged English colony of Nevis by ransacking the attacking French. In recognition of his actions, the King of England awarded him a letter of marque, granting him legal protection so long as he remained loyal. However, during a voyage to the Indian Ocean, his crew plundered a neutral ship without his knowledge, branding him an outlaw once more. Eventually, he was captured and sent to London, where he was tried and executed.
As time went on, Kidd's reputation as a pirate became the stuff of legends and folklore, with many tall tales being told about his adventures, most famously involving him burying plundered treasure to protect it from his greedy associates.
Appearances
Edit
Persona 5Edit
Captain Kidd is the Initial Persona of Ryuji Sakamoto. Shujin Academy Library has a book based on him called "Pirate Legend" that boosts guts.
Arcana

Level

| | | |
| --- | --- | --- |
| Strength | 5 | |
| Magic | 3 | |
| Endurance | 6 | |
| Agility | 3 | |
| Luck | 3 | |

Chariot
4
| Inherit | Reflects | Absorbs | Block | Resists | Weak |
| --- | --- | --- | --- | --- | --- |
| - | - | - | - | Electric | Wind |
List of Skills

Skill
Cost
Effect
Level
Zio

4 SP

Light Electric damage to 1 foe. Rare chance of Shock.
Innate
Lunge

6% HP

Light Physical damage to 1 foe.
5
Tarukaja

8 SP

Buff attack power of 1 ally for 3 turns.
9
Headbutt

9% HP

Medium Physical damage to 1 foe. Medium chance of Forget.
11
Adverse Resolve
Auto
Increase critical rate when being ambushed.
14
Rampage

13% HP

Light Physical damage to all foes 1x to 3x.
17
Mazio

10 SP

Light Electric damage to all foes. Rare chance of Shock.
21
Bad Beat

21% HP

Medium Physical damage to all foes. Low chance of Despair.
24
Assault Dive

13% HP

Heavy Physical damage to 1 foe.
26
Zionga

8 SP

Medium Electric damage to 1 foe. Rare chance of Shock.
28
Swift Strike

17% HP

Light Physical damage to all foes 3x to 4x.
32
Shock Boost
Auto
Enhance chance of inflicting Shock status.
35
Elec Break

15 SP

Suppress innate Electric resistance of all foes for 3 turns.
39
Mazionga

16 SP

Medium Electric damage to all foes. Rare chance of Shock.
43
Deathbound

22% HP

Medium Physical damage to all foes 1x to 2x.
47
Elec Boost
Auto
Strengthen Electric attacks by 25%.
47
Megaton Raid

16% HP

Severe Physical damage to 1 foe.
53
Ziodyne

12 SP

Heavy Electric damage to 1 foe. Rare chance of Shock.
55
Matarukaja

24 SP

Buff party attack power for 3 turns.
58
Charge

15 SP

Next physical attack inflicts 2.5x damage.
63
Maziodyne

22 SP

Heavy Electric damage to all foes. Rare chance of Shock.
67
Agneyastra

24% HP

Medium Physical damage to all foes 1x to 3x.
71
God's Hand

25% HP

Colossal Physical damage to 1 foe.
75
Arcana

Level

| | | |
| --- | --- | --- |
| Strength | 73 | |
| Magic | 43 | |
| Endurance | 81 | |
| Agility | 54 | |
| Luck | 53 | |

Chariot
99
| Inherit | Reflects | Absorbs | Block | Resists | Weak |
| --- | --- | --- | --- | --- | --- |
| - | - | - | - | Electric | Wind |
List of Skills

Skill
Cost
Effect
Level
Zio

4 SP

Light Electric damage to 1 foe. Rare chance of Shock.
Innate
Lunge

6% HP

Light Physical damage to 1 foe.
5
Tarukaja

8 SP

Buff attack power of 1 ally for 3 turns.
9
Headbutt

9% HP

Medium Physical damage to 1 foe. Medium chance of Forget.
11
Adverse Resolve
Auto
Increase critical rate when being ambushed.
14
Rampage

13% HP

Light Physical damage to all foes 1x to 3x.
17
Mazio

10 SP

Light Electric damage to all foes. Rare chance of Shock.
21
Bad Beat

21% HP

Medium Physical damage to all foes. Low chance of Despair.
24
Assault Dive

13% HP

Heavy Physical damage to 1 foe.
26
Zionga

8 SP

Medium Electric damage to 1 foe. Rare chance of Shock.
28
Swift Strike

17% HP

Light Physical damage to all foes 3x to 4x.
32
Shock Boost
Auto
Enhance chance of inflicting Shock status.
35
Elec Break

15 SP

Suppress innate Electric resistance of all foes for 3 turns.
39
Mazionga

16 SP

Medium Electric damage to all foes. Rare chance of Shock.
43
Deathbound

22% HP

Medium Physical damage to all foes 1x to 2x.
47
Elec Boost
Auto
Strengthen Electric attacks by 25%.
47
Megaton Raid

16% HP

Severe Physical damage to 1 foe.
53
Ziodyne

12 SP

Heavy Electric damage to 1 foe. Rare chance of Shock.
55
Matarukaja

24 SP

Buff party attack power for 3 turns.
58
Charge

15 SP

Next physical attack inflicts 2.5x damage.
63
Maziodyne

22 SP

Heavy Electric damage to all foes. Rare chance of Shock.
67
Agneyastra

24% HP

Medium Physical damage to all foes 1x to 3x.
71
God's Hand

25% HP

Colossal Physical damage to 1 foe.
75