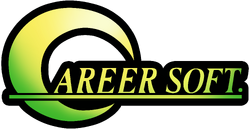 Career Soft was a Japanese video game development studio founded in June 1996 by Team Career, a team within the Masaya Games. In October 2001, Atlus acquired Career Soft and became the sole publisher of their games. As a subsidiary to Atlus, Career Soft was in charge of develop the spiritual successor to the Langrisser franchise, Growlanser. In 2004, after the release of Growlanser IV, the majority of Career Soft's staff was transferred into the main development team of Atlus, where they have worked on the Shin Megami Tensei: Devil Survivor sub-series.
Career soft continued to exist as a label after Index Holdings dissolved Atlus into its video game business on October 2010. On September 5, 2013, as a brand, Career Soft was dissolved once Sega acquired Index Corporation and transferred all the target company's assets into Sega Dream Corporation. On the 18 February 2014, the assets of Career Soft was later transferred to the video game development division of Sega Dream Corporation which was re-branded as Atlus.
Ad blocker interference detected!
Wikia is a free-to-use site that makes money from advertising. We have a modified experience for viewers using ad blockers

Wikia is not accessible if you've made further modifications. Remove the custom ad blocker rule(s) and the page will load as expected.