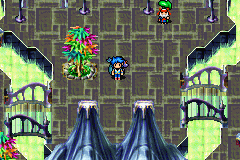 Center Town, known as Central Land (セントラルランド) in Japan, is a major hub in DemCenter and the heart of Dem.
Appearances
Edit
Center Town is located directly south of Lucifer's manor. This is the second town visited in DemiKids: Dark Version and will introduce the player to a number of new concepts.
Along with an Inn, a Store and a Demon Lab, Center Town also is home to a Casino, a Vinecenter and a Relic Lab.
Devil Children Messiah RiserEdit
After Jin and Akira meet up from visiting the other Makai's, they go together into Center Town. At first relieved at how everything was normal, the group expresses shock when the normal demon citizens begin disappearing.
Ad blocker interference detected!
Wikia is a free-to-use site that makes money from advertising. We have a modified experience for viewers using ad blockers

Wikia is not accessible if you've made further modifications. Remove the custom ad blocker rule(s) and the page will load as expected.