Ad blocker interference detected!
Wikia is a free-to-use site that makes money from advertising. We have a modified experience for viewers using ad blockers

Wikia is not accessible if you've made further modifications. Remove the custom ad blocker rule(s) and the page will load as expected.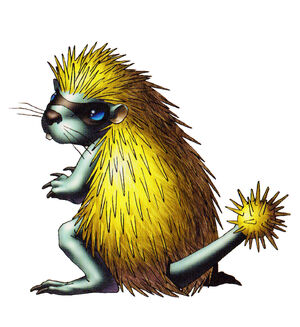 Chagrin (チャグリン, Chagurin) is a demon appearing in the series.
Also known as Cagrino, it is a small yellow hedgehog of Gypsy lore. Horses were said to be the main victims of the Chagrin, but their favorite are the mares that had recently given birth. They would urinate on their victims, causing them emotional and physical distress, which would also result in boils and sores. Gypsies would use spells and incantations to ward off Chagrins.
Appearances
Edit
Shin Megami Tensei IV ApocalypseEdit
Chagrin appears in the initial southern areas of the Fairy Forest. It can teach the Zio, Toxic Sting, Stun Needle and Sukukaja skills during Demon Whisper.
Devil Summoner: Soul HackersEdit
"

An evil spirit of Romani folklore. It also called Chagrino or Harginn. It is thought to be a combination of several religions and cultures of nations, absorbed as the Romani moved from place to place. The Chagrin appears as a yellow hedgehog, and seeing it is a sign of an upcoming disaster.

"
—Devil Summoner: Soul Hackers 3DS Compendium
Shin Megami Tensei IVEdit
| Race | Level | HP | MP | ST | DX | MA | AG | LU |
| --- | --- | --- | --- | --- | --- | --- | --- | --- |
| Wilder | 6 | 76 | 72 | 12 | 12 | 12 | 14 | 12 |
| Phys | Gun | Fire | Ice | Elec | Force | Light | Dark |
| --- | --- | --- | --- | --- | --- | --- | --- |
| - | - | - | - | Weak | Repel | - | - |
Shin Megami Tensei IV ApocalypseEdit
Race

Level

HP

MP

| | | |
| --- | --- | --- |
| Strength | 14 | |
| Dexterity | 23 | |
| Magic | 13 | |
| Agility | 20 | |
| Luck | 15 | |

Wilder
11
154
60
| Phys | Gun | Fire | Ice | Elec | Force | Light | Dark |
| --- | --- | --- | --- | --- | --- | --- | --- |
| - | - | Weak | - | Resist | - | - | - |
| | |
| --- | --- |
| Normal Attack | Phys x2, 1 enemy |
List of Skills

Skill
Cost
Effect
Level
Zio
5 MP
Weak elec damage to one foe.
Innate
Toxic Sting
9 MP
Weak gun damage and 70% poison to one foe.
Innate
Stun Needle
11 MP
Weak gun damage and 60% bind to one foe.
12
Sukukaja
20 MP
Buffs party's agility by 1 level.
14
Devil Summoner: Soul HackersEdit
| Race | Level | HP | MP | CP | MAG Summon |
| --- | --- | --- | --- | --- | --- |
| Wilder | 15 | 151 | 43 | 5 | 359 |

| Strength | Intelligence | Magic | Endurance | Agility | Luck |
| --- | --- | --- | --- | --- | --- |
| 5 | 3 | 4 | 8 | 7 | 5 |
| Personality | Phys Attack | Phys Hit | Mgc Attack | Mgc Hit | Base Defense | Avoid |
| --- | --- | --- | --- | --- | --- | --- |
| Dumb | 40 | 25 | 33 | 10 | 62 | 24 |
| Resist | Void | Absorb | Reflect | Weak |
| --- | --- | --- | --- | --- |
| - | - | Force | - | - |