Change Relic
Talk

0
3,676pages on
this wiki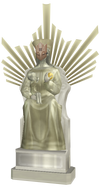 The Change Relic is a shadow in the Persona series.
Appearances
Edit
Persona 3Edit
A sub-boss found on the 36th floor of Tartarus. It impedes the player's progress and must be beaten to proceed. In The Answer of Persona 3 FES it appears as a regular enemy in Empyrean.
Persona 4Edit
It appears in Persona 4 as a regular enemy, in Magatsu Mandala on floors four and five.
Persona 3Edit
| Slash | Strike | Pierce | Fire | Ice | Elec | Wind | Light | Dark | Almighty |
| --- | --- | --- | --- | --- | --- | --- | --- | --- | --- |
| - | - | - | - | - | - | Null | Null | Null | - |
List of Skills

Skill
Effect
Garula
Inflicts a moderate amount of Wind damage to one enemy
Magarula
Inflicts a moderate amount of wind damage to all enemies
Rakukaja
Raises one ally's Defense for 3 turns
Poison Mist
25% chance of inflicting the Poison ailment to all enemies
Dia
Recovers a small amount of HP to one ally
The AnswerEdit
| Slash | Strike | Pierce | Fire | Ice | Elec | Wind | Light | Dark | Almighty |
| --- | --- | --- | --- | --- | --- | --- | --- | --- | --- |
| - | - | - | - | - | - | Null | Null | Null | - |
List of Skills

Skill
Effect
Myriad Arrows
Inflicts a moderate amount of Pierce damage up to 3 times to all enemies
Garudyne
Inflicts a large amount of Wind damage to one enemy
Magarudyne
Inflicts a large amount of Wind damage to all enemies
Mind Charge
The next Fire, Ice, Electrical, Wind, or Almighty magic attack will be 2.5 times greater in power. Self.
Diarahan
Recovers all HP to one ally
Persona 4Edit
| Phys | Fire | Ice | Elec | Wind | Light | Dark | Almighty | EXP | Yen |
| --- | --- | --- | --- | --- | --- | --- | --- | --- | --- |
| - | - | - | - | - | Weak | Weak | - |  ? |  ? |
Persona 4 GoldenEdit
| Phys | Fire | Ice | Elec | Wind | Light | Dark | Almighty | EXP | Yen |
| --- | --- | --- | --- | --- | --- | --- | --- | --- | --- |
| Repel | - | - | Weak | - | Repel | Weak | - |  ? |  ? |
List of Skills

Skill
Effect
Old One
Enervates all foes
Ziodyne
Deals heavy Elec damage to 1 foe
Elec Boost
Strengthens Elec attacks by 25%