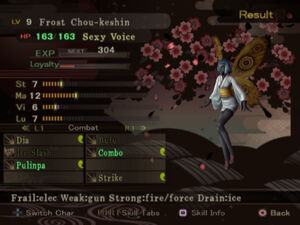 Chou-keshin (チョウケシン, Choukeshin) is a demon in the series.
Chou-keshin is a type of Youkai from Japanese folklore. It is a butterfly that can take over a body and eat it.
Appearances
Edit
Devil Summoner: Raidou Kuzunoha vs. King AbaddonEdit
"After death, people sometimes become this butterfly demon. It can pass from the netherworld to our world.
They travel in flocks, and if they choose to attack, your life is in great jeopardy."
—Devil Summoner: Raidou Kuzunoha vs. King Abaddon Devil Chart
Devil Summoner: Raidou Kuzunoha vs. King AbaddonEdit
| Level | Order | HP | ST | MA | VI | LU | Conversation | Investigation |
| --- | --- | --- | --- | --- | --- | --- | --- | --- |
| 9 | Frost | 155 | 6 | 11 | 4 | 7 | Sexy Voice | Cool Down |
| Resists | Block | Absorbs | Weak | Frail |
| --- | --- | --- | --- | --- |
| Fire, Force | - | Ice | Gun | Elec |
List of Skills

Skill
Cost
Effect
Level
Dia
10 MAG
Slightly restores HP. 1 Ally
Innate
Bufu
8 MAG
Light Ice dmg to an enemy. Stun:Short
10
Ice Slash
40 MAG
Heavy Ice dmg to all. Stun: Short Type: Blade
11
Endure
Passive
Revive with 1 HP (once per battle)
Max Loyalty