Ad blocker interference detected!
Wikia is a free-to-use site that makes money from advertising. We have a modified experience for viewers using ad blockers

Wikia is not accessible if you've made further modifications. Remove the custom ad blocker rule(s) and the page will load as expected.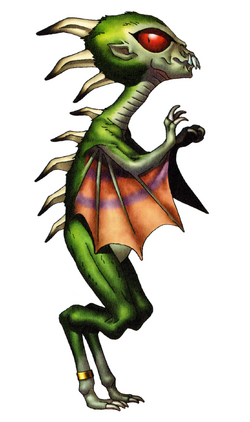 Chupacabra (チュパカブラ, Chupakabura) is a recurring demon in the series.
Meaning goat sucker in Spanish, it is a cryptid believed to exist in the Americas. Although its favorite food is goat, the Chupacabra is also believed to have attacked cats, dogs, chickens and other animals.
Appearances
Edit
Shin Megami Tensei: Strange JourneyEdit
"A mysterious creature that appears in Puerto Rico. It is said to suck the blood of cows and goats.
Its name is "goat-sucker," and it is anywhere from 90 to 180 cm, with elliptical eyes. Its body is like a kangaroo's and it has three sharp claws on both arms, with legs like a goat's. Its hair can change colors to blend with its surroundings. Some speculate that it is not of this planet."
—Shin Megami Tensei: Strange Journey Compendium
Shin Megami Tensei IV ApocalypseEdit
Chupacabra can be found in the Toyosu Shelter, the Shinjuku West Entrance Park and the Konganji Passage in Ginza. It can teach the Sukukaja, Life Drain, Dormina and Frenzied Chomp skills through its Demon Whisper. Chupacabra benefits from learning support and ailment skills.
Devil Summoner: Soul HackersEdit
"A mysterious creature that appears in Puerto Rico. It is said to suck the blood of cows and goats.
Its name is "goat-sucker," and it is anywhere from 90 to 180 cm, with elliptical eyes. Its body is like a kangaroo's and it has three sharp claws on both arms, with legs like a goat's. Its hair can change colors to blend with its surroundings. Some speculate that it is not of this planet."
—Devil Summoner: Soul Hackers 3DS Compendium
Shin Megami Tensei: Strange JourneyEdit
| Level | Race | Alignment | HP | MP | ST | MA | AG | VI | LC |
| --- | --- | --- | --- | --- | --- | --- | --- | --- | --- |
| 19 | UMA | Neutral-Neutral | 187 | 88 | 17 | 9 | 15 | 16 | 15 |
| Attack Type | | | | | | | | | |
| --- | --- | --- | --- | --- | --- | --- | --- | --- | --- |
| Single foe/1/Physical/None | - | - | Weak | - | - | - | Strong | Strong | - |
| Poison | Paralyze | Stone | Strain | Sleep | Charm | Mute | Fear | Bomb | Rage |
| --- | --- | --- | --- | --- | --- | --- | --- | --- | --- |
| 100% | 100% | 100% | 100% | 100% | 100% | Weak (300%) | 100% | 100% | 100% |
D-Source Skills
Zan-ei
Life Drain
Life Bonus
Item Drops
UMA Skin
Dis-Poison
Bead
Password
EwB0kpHgAemkAYhY

AYOXf%eg%negQ%gb
Shin Megami Tensei IVEdit
| Race | Level | HP | MP | ST | DX | MA | AG | LU |
| --- | --- | --- | --- | --- | --- | --- | --- | --- |
| Food | 21 | 217 | 97 | 27 | 25 | 25 | 32 | 27 |
| Phys | Gun | Fire | Ice | Elec | Force | Light | Dark |
| --- | --- | --- | --- | --- | --- | --- | --- |
| - | - | - | - | Weak | - | Resist | - |
Shin Megami Tensei IV ApocalypseEdit
Race

Level

HP

MP

| | | |
| --- | --- | --- |
| Strength | 25 | |
| Dexterity | 25 | |
| Magic | 21 | |
| Agility | 35 | |
| Luck | 31 | |

Food
21
200
107
| Phys | Gun | Fire | Ice | Elec | Force | Light | Dark |
| --- | --- | --- | --- | --- | --- | --- | --- |
| - | Weak | - | - | Weak | - | - | - |
| | |
| --- | --- |
| Normal Attack | Phys x1, 1 enemy |
List of Skills

Skill
Cost
Effect
Level
Sukukaja
20 MP
Buffs party's agility by 1 level.
Innate
Life Drain
5 MP
Drains small amount of HP from one foe.
Innate
Dormina
4 MP
90% sleep to one foe.
22
Frenzied Chomp
6 MP
Weak physical damage to one foe. Inflicts Poison/Bind/Charm.
23
Devil Summoner: Soul HackersEdit
| Race | Level | HP | MP | CP | MAG Summon |
| --- | --- | --- | --- | --- | --- |
| UMA | 35 | 305 | 91 | 7 | 556 |

| Strength | Intelligence | Magic | Endurance | Agility | Luck |
| --- | --- | --- | --- | --- | --- |
| 13 | 9 | 5 | 12 | 15 | 5 |
| Personality | Phys Attack | Phys Hit | Mgc Attack | Mgc Hit | Base Defense | Avoid |
| --- | --- | --- | --- | --- | --- | --- |
| Wild | 96 | 55 | 52 | 22 | 110 | 54 |
| Resist | Void | Absorb | Reflect | Weak |
| --- | --- | --- | --- | --- |
| - | - | - | - | Force |