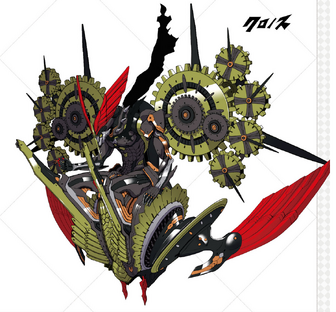 "I am Chronos… I was born from man, and accompany man on his journey… You wander an ephemeral dream… Your transience affords uncompromising power… What is your life…? What is your death…?"
—Clockwork God during the final battle, Persona Q
The Clockwork God (時計仕掛けの神?), also known as Captor Spider (玲を宿す蜘蛛?) is the main antagonist of Persona Q.
Appearances
Edit
Persona Q: Shadow of the LabyrinthEdit
He first appears as the characters investigate You in Wonderland as Captor Spider, noting that time has begun to move, though Yosuke Hanamura (P4 Route in Yasogami High School) and Fuuka Yamagishi (P3 Route in Tartarus) briefly notices his spider form at the beginning of the game. The spider appears briefly before the group again at the beginning of Evil Spirit Club, scaring some of them and leading to a stroll event where they realize something is odd about the spider that could appear in the Dark Hour.
The Clockwork God becomes the leader of the Shadows appearing in Yasogami High School upon completing Inaba Pride Exhibit. He bewitched the bell that trapped the Investigation Team in the High School while the Culture Festival is being held, alongside the SEES in the elevator of the Velvet Room leading them to Yasogami High School.
He is an embodiment of death and is one half of the deity Chronos alongside Zen. Zen had locked him away within the bell tower of the alternate Yasogami High, as he chose to ignore his duty for the time being in order to find an answer to Rei's reason for living. However, he would eventually awaken, starting the events that lead both teams of Persona users to this world.
His goal was to have them awaken his other self and have them reunite to return to their duty. Once that mission was accomplished they would be allowed to return to their own times, however, he had underestimated the persona users and assumed they would willingly abandon people they have come to care for. He took command of the shadows residing in Rei's world and had his spider minions capture her, imprisoning her in the Clock Tower.
Beneath the iron mask is a face identical to Zen's, which covers up his face during the battle. Seeing that his other half has decided to live as a mortal, Clockwork God has decided to erase him for turning his back on his divine purpose and offers to erase the persona users for choosing to oppose him rather than return home. After losing the battle Zen shatters him, showing gratitude that his own end has come as his body falls apart and vanishes.
Bring plenty of revival items to the fight, and/or several party members with (Sama)Recarm and several SP-restoring items.
Captor Spider
Edit
The Captor Spider is relatively straightforward. Simply attack away at the head until it retreats behind its legs. If it launches a normal attack, it hits 4 random targets amongst the party. Once it retreats and raises its legs, each leg will then take their action individually, either with a normal attack or a -dyne spell.
For the purposes of conserving SP, have party members equip weapons that deal elemental damage to get free Boost status for more devastating area attacks. Agility Bind is still effective the Spider and its legs, so don't neglect them - cutting their accuracy means fewer chances of losing Boost due to getting hit and fewer turns spent healing off the damage. More importantly, because the spider is immune to every status condition other than binds, Agility Bind is the only way to ensure that attacks such as Myriad Arrows strike the spider.
After all 4 legs are destroyed, the Captor Spider falls forward and is helpless for a few turns, allowing the party to freely attack it. After a few turns it will regenerate its legs and retreat behind them. Attacking the spider in such a way that all four of its legs die at the same time is a good way to optimize the party's damage outputs.
Clockwork God
Edit
Clockwork God can act twice per turn, and has a normal attack that hits the entire party.
The main obstacle in this battle is the skill Gears of Time, as it is an unstoppable countdown that will kill the affected party member. Naturally, on Risky this means the battle must be ended quickly before Gears of Time claims the protagonist. Clockwork God will not cast Gears of Time unless all party members are currently not affected by it, so keeping a single affected party member alive is more efficient than juggling everyone's counts at once. Using revival spells or items can increase the countdown to delay their inevitable death, but each action spent reviving is an action not spent attacking Clockwork God. On Risky, it is the best idea to leave the protagonist with the countdown while everyone else has already died once to be revived later, while keeping his countdown from dropping to 0 and heavily minimizing the use of revival items.
Fight conservatively, as once Clockwork God reaches 50% HP it will use Time Reversal to restore all its health, however it only does this once per battle. This can be skipped if one does enough damage to put it to 25% HP or lower after that monologue, a goal well within the player's reach should he or she successfully panic the boss, but difficult otherwise. Past this threshold, Clockwork God will occasionally spend its entire turn to "concentrate" - this signifies that the party should spend the next turn Defending since it will use Time Stop next turn, allowing it to perform 5 attacks in a row.
Perhaps fittingly, Clockwork God is disproportionately susceptible to paralysis.
Persona Q: Shadow of the LabyrinthEdit
Captor Spider
Edit
Level
HP
Attack
Defense

| | | |
| --- | --- | --- |
| Strength | 70 | |
| Magic | 75 | |
| Endurance | 75 | |
| Agility | 47 | |
| Luck | 51 | |

75
12500
210
225
| Exp | Drop 1 | Drop 2 | Drop 3 |
| --- | --- | --- | --- |
| 0 | - | - | - |
| Cut | Stab | Bash | Fire | Ice | Elec | Wind | Light | Dark | Alm |
| --- | --- | --- | --- | --- | --- | --- | --- | --- | --- |
| - | - | - | - | - | - | - | Null | Null | - |
| Sleep | Panic | Poison | Curse | Paralysis | St Bind | Ma Bind | Ag Bind | Down | KO |
| --- | --- | --- | --- | --- | --- | --- | --- | --- | --- |
| Null | Null | Null | Null | Null | Resist | Resist | - | Null | Null |
List of Skills

Skill
Effect
Charge Shot
A severe Stab attack that pierces to the back row. (1 enemy)
Megidolaon
A severe Almighty attack, with medium chance of knockdown. (All enemies)
Level
HP
Attack
Defense

| | | |
| --- | --- | --- |
| Strength | 70 | |
| Magic | 64 | |
| Endurance | 70 | |
| Agility | 46 | |
| Luck | 50 | |

75
1700
210
210
| Exp | Drop 1 | Drop 2 | Drop 3 |
| --- | --- | --- | --- |
| 0 | - | - | - |
| Cut | Stab | Bash | Fire | Ice | Elec | Wind | Light | Dark | Alm |
| --- | --- | --- | --- | --- | --- | --- | --- | --- | --- |
| - | - | - | Resist | Weak | - | - | Null | Null | - |
| Sleep | Panic | Poison | Curse | Paralysis | St Bind | Ma Bind | Ag Bind | Down | KO |
| --- | --- | --- | --- | --- | --- | --- | --- | --- | --- |
| Null | Null | Null | Null | Null | Resist | Resist | - | Null | Null |
List of Skills

Skill
Effect
Agidyne
A heavy Fire attack. (1 enemy)
Maragidyne
A heavy Fire attack. (All enemies)
Level
HP
Attack
Defense

| | | |
| --- | --- | --- |
| Strength | 70 | |
| Magic | 64 | |
| Endurance | 70 | |
| Agility | 46 | |
| Luck | 50 | |

75
1700
210
210
| Exp | Drop 1 | Drop 2 | Drop 3 |
| --- | --- | --- | --- |
| 0 | - | - | - |
| Cut | Stab | Bash | Fire | Ice | Elec | Wind | Light | Dark | Alm |
| --- | --- | --- | --- | --- | --- | --- | --- | --- | --- |
| - | - | - | Weak | Resist | - | - | Null | Null | - |
| Sleep | Panic | Poison | Curse | Paralysis | St Bind | Ma Bind | Ag Bind | Down | KO |
| --- | --- | --- | --- | --- | --- | --- | --- | --- | --- |
| Null | Null | Null | Null | Null | Resist | Resist | - | Null | Null |
List of Skills

Skill
Effect
Bufudyne
A heavy Ice attack. (1 enemy)
Mabufudyne
A heavy Ice attack. (All enemies)
Level
HP
Attack
Defense

| | | |
| --- | --- | --- |
| Strength | 70 | |
| Magic | 64 | |
| Endurance | 70 | |
| Agility | 46 | |
| Luck | 50 | |

75
1700
210
210
| Exp | Drop 1 | Drop 2 | Drop 3 |
| --- | --- | --- | --- |
| 0 | - | - | - |
| Cut | Stab | Bash | Fire | Ice | Elec | Wind | Light | Dark | Alm |
| --- | --- | --- | --- | --- | --- | --- | --- | --- | --- |
| - | - | - | - | - | Resist | Weak | Null | Null | - |
| Sleep | Panic | Poison | Curse | Paralysis | St Bind | Ma Bind | Ag Bind | Down | KO |
| --- | --- | --- | --- | --- | --- | --- | --- | --- | --- |
| Null | Null | Null | Null | Null | Resist | Resist | - | Null | Null |
List of Skills

Skill
Effect
Ziodyne
A heavy Elec attack. (1 enemy)
Maziodyne
A heavy Elec attack. (All enemies)
Level
HP
Attack
Defense

| | | |
| --- | --- | --- |
| Strength | 70 | |
| Magic | 64 | |
| Endurance | 70 | |
| Agility | 46 | |
| Luck | 50 | |

75
1700
210
210
| Exp | Drop 1 | Drop 2 | Drop 3 |
| --- | --- | --- | --- |
| 0 | - | - | - |
| Cut | Stab | Bash | Fire | Ice | Elec | Wind | Light | Dark | Alm |
| --- | --- | --- | --- | --- | --- | --- | --- | --- | --- |
| - | - | - | - | - | Weak | Resist | Null | Null | - |
| Sleep | Panic | Poison | Curse | Paralysis | St Bind | Ma Bind | Ag Bind | Down | KO |
| --- | --- | --- | --- | --- | --- | --- | --- | --- | --- |
| Null | Null | Null | Null | Null | Resist | Resist | - | Null | Null |
List of Skills

Skill
Effect
Garudyne
A heavy Wind attack. (1 enemy)
Magarudyne
A heavy Wind attack. (All enemies)
Clockwork God
Edit
Level
HP
Attack
Defense

| | | |
| --- | --- | --- |
| Strength | 78 | |
| Magic | 80 | |
| Endurance | 80 | |
| Agility | 33 | |
| Luck | 55 | |

78
13000
234
240
| Exp | Drop 1 | Drop 2 | Drop 3 |
| --- | --- | --- | --- |
| 0 | - | - | - |
| Cut | Stab | Bash | Fire | Ice | Elec | Wind | Light | Dark | Alm |
| --- | --- | --- | --- | --- | --- | --- | --- | --- | --- |
| - | - | - | - | - | - | - | Null | Null | - |
| Sleep | Panic | Poison | Curse | Paralysis | St Bind | Ma Bind | Ag Bind | Down | KO |
| --- | --- | --- | --- | --- | --- | --- | --- | --- | --- |
| Resist | Resist | Null | Null | - | Resist | Resist | Resist | Null | Null |
List of Skills

Skill
Effect
Gears of Time
A countdown to death.
Time Warp
Hasten the Gears of Time countdown.
Time Stop
Act up to four times on the turn used.
Time Reversal
Full HP restore. Removes stat penalties. (Self)
Vorpal Blade
A heavy Cut attack. (1 enemy)
Agidyne
A heavy Fire attack. (1 enemy)
Maragidyne
A heavy Fire attack. (All enemies)
Bufudyne
A heavy Ice attack. (1 enemy)
Mabufudyne
A heavy Ice attack. (All enemies)
Garudyne
A heavy Wind attack. (1 enemy)
Magarudyne
A heavy Wind attack. (All enemies)
Megidolaon
A severe Almighty attack, with medium chance of knockdown. (All enemies)
Matarunda
Lower attack for 3 turns. (All enemies)
Marakunda
Lower physical defense for 3 turns. (All enemies)
Masukunda
Lower hit rate and evasion rate for 3 turns. (All enemies)
Pulinpa
Medium chance of Panic. (1 enemy)
Battle Quotes
Edit
"The time has come. The time to fulfill your role. The time to return to your original form. You have forgotten your role. You resisted your duty even after regaining your memory. You have reduced yourself to a mortal. You have reduced yourself to that which is unnecessary. I shall erase myself. I shall erase you, a part of me. I shall return everything in this world to ash. The time has come." (75% HP)
"Players, you have done your part well. Yet, why do you not return from whence you came? The curtain has fallen... Why do those who are destined to perish defy me? You are humans; your frail kind requires my protection. But if it is your wish, then I shall erase you as well." (50% HP)
"I am Chronos... I was born from man, and accompany man on his journey... You wander an ephemeral dream... Your transience affords you uncompromising power... What is your life...? What is your death...?" (25% HP)
"Hugh!" (When attacking)
"Ha!" (When attacking or using Vorpal Sword)
"Tch!" (When attacking or using Vorpal Sword)
"The time has come..." (Using Gear of Time or casting a spell)
"The time to reverse time..." (Using Time Stop)
"This is enough time..." (Ending Time Stop)
"Prepare to meet thy fate..." (Using Time Warp)
"The time to return to once you came..." (Casting a spell)
"Take this..." (Casting a spell)
"Ugh!" (When attacked)
"Ngh!" (When attacked)
"..." (When attacked)
"This couldn't... how could it be...?" (Upon being defeated)