Ad blocker interference detected!
Wikia is a free-to-use site that makes money from advertising. We have a modified experience for viewers using ad blockers

Wikia is not accessible if you've made further modifications. Remove the custom ad blocker rule(s) and the page will load as expected.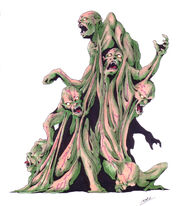 Corpse (コープス, Kōpusu)? is a demon in the series.
Corpse is an English word that means "dead body."
Appearances
Edit
Shin Megami TenseiEdit
"Origin: Worldwide. A mass of zombies that have fused together. All their minds are in a panic, and they can no longer tell one another apart."
—Shin Megami Tensei A-Mode DDS Dictionary
Shin Megami Tensei: 20XXEdit
The Corpse appears as the first boss of the game. It appears behind the Gaea Temple in Valhalla attacking Ain.  
Shin Megami Tensei IVEdit
Seven Corpses must be slain as part of the Challenge Quest, Corpse Disposal. According to the Ashura-kai member guarding the door to the parts of Shinjuku where Corpses can be found, they must be defeated all at once without quitting or leaving the area. It is implied that they were humans who ate red pills given to them by a Hunter.
Can only be obtained for use by the player through a fusion accident. At level 39, it will evolve into Nebiros.
Shin Megami Tensei IV ApocalpyseEdit
As as in the previous game, Corpse can only be obtained through a Fusion Accident. It evolves to Nebiros at level 42.
Kyūyaku Megami TenseiEdit
Megami Tensei IIEdit
| Race | Level | HP | MP | VIT | INT | STR | SPD | LUC | DEF |
| --- | --- | --- | --- | --- | --- | --- | --- | --- | --- |
| Spirit | 7 | 30 | - | 8 | 5 | 7 | 6 | 5 | 2 |
Swd
Gun
Fir
Ice
Elc
Exp
For
Bnd
Crs
Nrv
Mnd
-

4

/

8
2.5×

3

/

8
Dr
3×
-
-
Nu
Nu
-
List of Spells

Skill
Cost
Effect
Call Ally
-
Summon allies (enemy only)
Shin Megami TenseiEdit
| CP | NOA | ATK | ACC | DEF | EVA | M.ATK | M.EFC |
| --- | --- | --- | --- | --- | --- | --- | --- |
| 10 | ? | 48 | 8 | 24 | 5 | 12 | 6 |

| | | |
| --- | --- | --- |
| St | 15 | |
| In | 5 | |
| Ma | 11 | |
| Vi | 10 | |
| Ag | 4 | |
| Lu | 5 | |
| | | | |
| --- | --- | --- | --- |
| Resistances | Weak to Fire and Expel, resists Ice and Elec | Drop | Bead |
Swd
Gun
Fir
Ice
Elc
For
Nrv
Exp
Crs
Mgc
Bnd
Chg
Dex
Ndl
Alm
-

4

/

8
2×

2

/

8

2

/

8

4

/

8

4

/

8
3×
Nu
-

6

/

8

4

/

8

6

/

8
Nu
-
List of Skills

Skill
Cost
Effect
Deathtouch
Extra
Absorbs some HP from an enemy. (Magic-type)
Call Ally
-
Summons reinforcement. (Enemy-only)
Stun Bite
Extra
Bites one enemy and Paralyzes it. (Charge-type)
Shin Megami Tensei IIEdit
| CP | NOA | ATK | ACC | DEF | EVA | M.ATK | M.EFC |
| --- | --- | --- | --- | --- | --- | --- | --- |
| 78 | 1 | 62 | 40 | 64 | 40 | 10 | 9 |

| | | |
| --- | --- | --- |
| St | 8 | |
| In | 7 | |
| Ma | 9 | |
| Vi | 9 | |
| Ag | 4 | |
| Lu | 2 | |
Swd
Gun
Fir
Ice
Elc
For
Nrv
Exp
Crs
Mgc
Bnd
Rsh
Hnd
Leg
Fly
Alm

6

/

8
Nu
-
Nu

4

/

8
-
Nu

6

/

8
Rf
-
-
Nu
Nu
Nu
Nu
-
List of Skills

Skill
Cost
Effect
Dark Breath
12 MP
Raises all allies' defense and magic.
Deathtouch
4 MP
Absorbs the enemy's HP.
Stun Bite
5% HP
Light Rush damage to one foe. Inflicts Bind.
Absorption
20% HP
User fuses with one ally, adding HP and MP together. (Enemy only)
Shin Megami Tensei: if...Edit
| CP | NOA | ATK | ACC | DEF | EVA | M.ATK | M.EFC |
| --- | --- | --- | --- | --- | --- | --- | --- |
| 13 | 0-7 | 72 | 47 | 70 | 46 | 11 | 9 |

| | | |
| --- | --- | --- |
| St | 10 | |
| In | 7 | |
| Ma | 9 | |
| Vi | 9 | |
| Ag | 4 | |
| Lu | 2 | |
Swd
Gun
Fir
Ice
Elc
For
Nrv
Exp
Crs
Mgc
Bnd
Rsh
Hnd
Leg
Fly
Alm
-

3

/

8
-
Nu

4

/

8
-

2

/

8

6

/

8
Dr

6

/

8
-
-

3

/

8

3

/

8

3

/

8
-
List of Skills

Skill
Cost
Effect
Deathtouch
4 MP
Absorbs the enemy's HP.
Suck
5% HP
Light damage to an enemy, user recovers half inflicted damage.
Dark Breath
12 MP
Raises all allies' defense and magic.
Stun Bite
5% HP
Light Rush damage to one foe. Inflicts Bind.
Call Ally
-
Summon allies (Enemy only)
Shin Megami Tensei: 20XXEdit
| CP | NOA | ATK | ACC | DEF | EVA | M.ATK | M.EFC |
| --- | --- | --- | --- | --- | --- | --- | --- |
| ? | | | | | | | |

| | | |
| --- | --- | --- |
| St | -- | |
| In | -- | |
| Ma | -- | |
| Vi | -- | |
| Ag | -- | |
| Lu | -- | |
| CP | NOA | ATK | ACC | DEF | EVA | M.ATK | M.EFC |
| --- | --- | --- | --- | --- | --- | --- | --- |
| 13 | 0-7 | 72 | 47 | 70 | 46 | 11 | 9 |

| | | |
| --- | --- | --- |
| St | 10 | |
| In | 7 | |
| Ma | 9 | |
| Vi | 9 | |
| Ag | 4 | |
| Lu | 2 | |
Shin Megami Tensei IVEdit
Race

Level

HP

MP

| | | |
| --- | --- | --- |
| Strength | 51 | |
| Dexterity | 45 | |
| Magic | 36 | |
| Agility | 41 | |
| Luck | 34 | |

Undead
35
426
85
| Phys | Gun | Fire | Ice | Elec | Force | Light | Dark |
| --- | --- | --- | --- | --- | --- | --- | --- |
| - | Null | Weak | Null | Weak | - | Weak | Null |
| | |
| --- | --- |
| Normal Attack | Phys x1 hit, 1 enemy |
List of Skills

Skill
Cost
Effect
Level
Binding Claw
11 MP
Medium physical damage and 35% bind to one foe.
Innate
Life Drain
5 MP
Drains small amount of HP from one foe.
Innate
Shin Megami Tensei IV ApocalypseEdit
Race

Level

HP

MP

| | | |
| --- | --- | --- |
| Strength | 57 | |
| Dexterity | 36 | |
| Magic | 26 | |
| Agility | 33 | |
| Luck | 38 | |

Undead
35
470
113
| Phys | Gun | Fire | Ice | Elec | Force | Light | Dark |
| --- | --- | --- | --- | --- | --- | --- | --- |
| - | Resist | Weak | Resist | Weak | - | Resist | Null |
| | |
| --- | --- |
| Normal Attack | Phys x1, 1 eneny |
Skill Affinities

Gun

+2

· Ice

+2

· Dark

+2

· Ailment

+2

· Electricity

-3

· Light

-3

·
Fire

-5

· Healing

-5
List of Skills

Skill
Cost
Effect
Level
Binding Claw
11 MP
Medium physical damage and 35% bind to one foe.
Innate
Life Drain
5 MP
Drains small amount of HP from one foe.
Innate
Mamudo
14 MP
Weak dark damage to all foes.

Smirk

+30% instant death
36
Last Bible IIIEdit
| Level | HP | MP | ATK | DEF | STR | INT | END | SPD | LUC |
| --- | --- | --- | --- | --- | --- | --- | --- | --- | --- |
| 34 | 390 | 34 | 81 | 49 | 15 | 13 | 12 | 18 | 12 |
Giten Megami Tensei: Tokyo MokushirokuEdit
| Race | Alignment | Level | HP | MP | CP |
| --- | --- | --- | --- | --- | --- |
| Undead | Dark-Neutral | 22 | 415 | 124 | 32 |

| Intuition | Will Power | Magic | Intelligence | Divine Protection |
| --- | --- | --- | --- | --- |
| 10 | 18 | 16 | 13 | 10 |

| Strength | Stamina | Agility | Dexterity | Charm |
| --- | --- | --- | --- | --- |
| 22 | 35 | 20 | 7 | 5 |
List of Skills

Death's Hand
Tentarafoo
Death's Aspiration
Poison Gas
Paralysis Bite
Curse Words