Ad blocker interference detected!
Wikia is a free-to-use site that makes money from advertising. We have a modified experience for viewers using ad blockers

Wikia is not accessible if you've made further modifications. Remove the custom ad blocker rule(s) and the page will load as expected.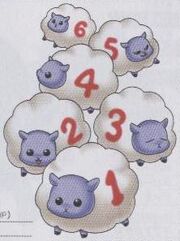 Counting Sheep (かぞえヒツジ, Kazoehitsuji) is a demon in the series.
Counting Sheep is a mental exercise used as a means of lulling oneself to sleep. In most depictions of counting sheep, the person envisions an endless series of identical white sheep jumping over a fence, while counting them as they do so. This is however largely a stereotype of the action. Sheep as a result have become associated with sleep or lack of sleep.
Appearances
Edit
Devil Children Red/Black BookEdit
Rank fusing Counting Sheep six times will have him rank up to Makura-gaeshi.
DemiKids: Light & DarkEdit
"

A demon who puts people to sleep by summoning one sheep after another.

"
—DemiKids Demonary
Known as Shepp, he has the power ThunderHoard.
Devil Children Messiah RiserEdit
An S-Ranked Counting Sheep can be obtained in the last two stages of Ice Makai.
Devil Children: Black/Red BookEdit
| Class | Element | Type | Exp | Level | HP | MP |
| --- | --- | --- | --- | --- | --- | --- |
| Common | Thunder | Ghost | 4 | 2 | 40 | 18 |
| ATK | DEF | MGC | RES | SPD | LCK |
| --- | --- | --- | --- | --- | --- |
| 7 | 6 | 5 | 5 | 5 | 5 |
Devil Children Black Book/Red Book (PS)Edit
| Class | Element | Type | Exp | Level | HP | MP |
| --- | --- | --- | --- | --- | --- | --- |
| Common | Thunder | Ghost | 4 | 2 | 40 | 18 |
| ATK | DEF | MGC | RES | SPD | LCK |
| --- | --- | --- | --- | --- | --- |
| 7 | 6 | 5 | 5 | 5 | 5 |
Devil Children: White BookEdit
| Class | Element | Type | Exp | Level | HP | MP |
| --- | --- | --- | --- | --- | --- | --- |
| Common | Thunder | Ghost | 4 | 2 | 40 | 18 |
| ATK | DEF | MGC | RES | SPD | LCK |
| --- | --- | --- | --- | --- | --- |
| 7 | 6 | 5 | 5 | 5 | 5 |
DemiKids: Light & DarkEdit
| Class | Element | Type | Exp | Level | HP | MP |
| --- | --- | --- | --- | --- | --- | --- |
| Common | Thunder | Ghost | | 2 | 40 | 18 |

| ATK | DEF | MGC | RES | SPD | LCK |
| --- | --- | --- | --- | --- | --- |
| 7 | 6 | 5 | 5 | 5 | 5 |
List of Skills

Skill
Element
Cost
Effect
Shock
Thunder
5 MP
Small dmg. 1 Foe
Slumber
Earth
6 MP
Sleep. 1 Foe
Defdrain
Dark
5 MP
DEF Down. Foes
Spellboost
Light
6 MP
MGC Up. Party
Pandemonium
Dark
6 MP
Confuse. 1 Foe
Shockburst
Thunder
10 MP
Medium dmg. 1 Foe
Devil Children Fire/Ice BookEdit
| Class | Element | Type | Exp | Level | HP | MP |
| --- | --- | --- | --- | --- | --- | --- |
| Common | Thunder | Ghost | | 2 | 40 | 18 |

| ATK | DEF | MGC | RES | SPD | LCK |
| --- | --- | --- | --- | --- | --- |
| 7 | 6 | 5 | 5 | 5 | 5 |
Devil Children Messiah RiserEdit
| Number | Element | Weakness | Type | Level | HP | MP |
| --- | --- | --- | --- | --- | --- | --- |
| 57 | Thunder | Earth | Ghost | 2 | 60 | 60 |
| ATK | MGC | DEF | RES | SPD | Quick | Call | Spell |
| --- | --- | --- | --- | --- | --- | --- | --- |
| 5 | 10 | 0 | 0 | 15 | 33 | 4 | Dormina |
| Number | Element | Weakness | Type | Level | HP | MP |
| --- | --- | --- | --- | --- | --- | --- |
| 102 | Thunder | Earth | Ghost | 14 | 170 | 60 |
| ATK | MGC | DEF | RES | SPD | Quick | Call | Spell |
| --- | --- | --- | --- | --- | --- | --- | --- |
| 9 | 12 | 7 | 10 | 15 | 33 | 16 | Dormina |