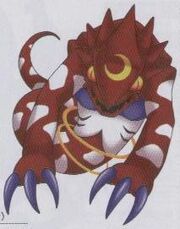 Crom Cruach (クロークルワッハ, Kurōku Ruwahha)? also known as Cromm Cruach is a demon in the series.
Crom Cruach or Cromm Crúaich, also known as Cenn Cruach, was a deity in pre-Christian Ireland. Crom's followers reputedly propitiated the god with human sacrifice in exchange for good yields of milk and grain. This practice was supposedly ended by St. Patrick, who destroyed the deity's statue with a sledgehammer.
Appearances
Edit
Devil Children Red/Black BookEdit
Crom Cruach can be obtained by rank fusing Basilisk six times.
DemiKids Light & DarkEdit
"

A gargantuan thunder-dragon born from the darkest reaches of the netherworld.

"
—DemiKids Demonary
Known as Necrodon, it can perform the combo Shadow Break with Lich.
Megami Ibunroku PersonaEdit
MAtk
MDef

| | | |
| --- | --- | --- |
| Strength | 62 | |
| Vitality | 36 | |
| Dexterity | 42 | |
| Agility | 17 | |
| Luck | 29 | |

117
58
1h
2h
Sp
Ax
Wp
Th
Ar
Fs
HG
MG
SG
Ri
Te
Ru

2

/

4

2

/

4

2

/

4

2

/

4

2

/

4

2

/

4

2

/

4

2

/

4

2

/

4

2

/

4

2

/

4

2

/

4
2×

2

/

4
Fi
Ic
Wi
Er
El
Nc
Bl
Gr
Ex
Mi
De
Cu
Nr
???
1.5×
1.5×
1.5×
1.5×
1.5×
1.5×
1.5×
1.5×
-
1.5×
-
1.5×
Nu

2

/

4
List of Skills

Skill
Effect
Eternal Black
Heavy Curse damage (area)
Hell Eyes
Instant Death kill (1 foe)
Devil Children Black/Red BookEdit
| Class | Element | Type | Level | HP | MP | Exp |
| --- | --- | --- | --- | --- | --- | --- |
| King | Dark | Dragon | 27 | 291 | 125 | 310 |
| ATK | DEF | MGC | RES | SPD | LCK |
| --- | --- | --- | --- | --- | --- |
| 27 | 25 | 21 | 24 | 20 | 18 |
Devil Children Black Book/Red Book (PS)Edit
| Class | Element | Type | Level | HP | MP | Exp |
| --- | --- | --- | --- | --- | --- | --- |
| King | Dark | Dragon | 27 | 291 | 125 | 310 |
| ATK | DEF | MGC | RES | SPD | LCK |
| --- | --- | --- | --- | --- | --- |
| 27 | 25 | 21 | 24 | 20 | 18 |
Devil Children White BookEdit
| Class | Element | Type | Level | HP | MP | Exp |
| --- | --- | --- | --- | --- | --- | --- |
| King | Dark | Dragon | 27 | 291 | 125 | 310 |
| ATK | DEF | MGC | RES | SPD | LCK |
| --- | --- | --- | --- | --- | --- |
| 27 | 25 | 21 | 24 | 20 | 18 |
DemiKids Light & DarkEdit
| Class | Element | Type | Level | HP | MP | Exp |
| --- | --- | --- | --- | --- | --- | --- |
| King | Dark | Dragon | 27 | 291 | 125 | 310 |

| ATK | DEF | MGC | RES | SPD | LCK |
| --- | --- | --- | --- | --- | --- |
| 27 | 25 | 21 | 24 | 20 | 18 |
List of Skills

Skill
Element
Cost
Effect
Pyrodeus
Fire
8 MP
Small dmg. 2 Foes
Fire Breath
Fire
23 HP
Small dmg. Foes
TNT
Dark
6 MP
Bomb. 1 Foe
Venom Claw
Dark
10 HP
Small dmg +Poison. 1 Foe
Spellprone
Dark
5 MP
RES Down. Foes
Hex Comadeus
Dark
20 MP
Medium dmg +Faint. 2 Foes
Devil Children Fire/Ice BookEdit
| Class | Element | Type | Level | HP | MP | Exp |
| --- | --- | --- | --- | --- | --- | --- |
| King | Dark | Dragon | 27 | 291 | 125 | 310 |

| ATK | DEF | MGC | RES | SPD | LCK |
| --- | --- | --- | --- | --- | --- |
| 27 | 25 | 21 | 24 | 20 | 18 |