Ad blocker interference detected!
Wikia is a free-to-use site that makes money from advertising. We have a modified experience for viewers using ad blockers

Wikia is not accessible if you've made further modifications. Remove the custom ad blocker rule(s) and the page will load as expected.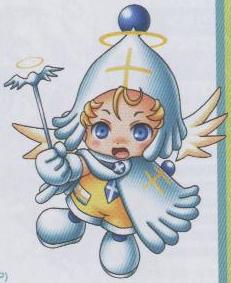 Cupid (キューピッド or クピト, Kyūpiddo or Kupido)? is a demon in the series.
God of love in Roman mythology and counterpart to the Greek Eros.
Appearances
Edit
DemiKids Light & DarkEdit
Cupid has the power of Lighthoard.
Giten Megami Tensei: Tokyo MokushirokuEdit
| Race | Alignment | Level | HP | MP | CP |
| --- | --- | --- | --- | --- | --- |
| Yoma | Neutral-Neutral | 14 | 131 | 132 | 22 |

| Intuition | Will Power | Magic | Intelligence | Divine Protection |
| --- | --- | --- | --- | --- |
| 8 | 10 | 22 | 17 | 12 |

| Strength | Stamina | Agility | Dexterity | Charm |
| --- | --- | --- | --- | --- |
| 16 | 15 | 12 | 8 | 9 |
Megami Ibunroku PersonaEdit
| Order | Type | Subtype | Level | HP | SP | Drops |
| --- | --- | --- | --- | --- | --- | --- |
| Yoma | Element | Occult | 43 | 301 | 430 | Houtoufu |

MAtk
MDef

| | | |
| --- | --- | --- |
| Strength | 29 | |
| Vitality | 21 | |
| Dexterity | 37 | |
| Agility | 33 | |
| Luck | 26 | |

140
92
1h
2h
Sp
Ax
Wp
Th
Ar
Fs
HG
MG
SG
Ri
Te
Ru
2×
2×
2×
2×
2×
2×
2×
2×
-
-
-
1.5×
-
-
Fi
Ic
Wi
Er
El
Nc
Bl
Gr
Ex
Mi
De
Cu
Nr
???

2

/

4

2

/

4

2

/

4

2

/

4

2

/

4

2

/

4

2

/

4

2

/

4
-
2×
-
Dr

2

/

4

1

/

4
List of Skills

Skill
Effect
Bufudyne
Heavy Ice damage+Freeze (area)

Inheritable Skill

Marin Karin
Inflicts Charm status (area)

Inheritable Skill

Rapid Fire
Medium Arrow damage (area)
Devil Children White BookEdit
| Class | Element | Type | Level | HP | MP | Exp |
| --- | --- | --- | --- | --- | --- | --- |
| Common | Light | Holy | 5 | 69 | 30 | 12 |
| ATK | DEF | MGC | RES | SPD | LCK |
| --- | --- | --- | --- | --- | --- |
| 6 | 6 | 6 | 6 | 12 | 4 |
DemiKids Light & DarkEdit
| Class | Element | Type | Level | HP | MP | Exp |
| --- | --- | --- | --- | --- | --- | --- |
| Common | Light | Holy | 4 | 55 | 25 | |

| ATK | DEF | MGC | RES | SPD | LCK |
| --- | --- | --- | --- | --- | --- |
| 7 | 5 | 7 | 5 | 9 | 8 |
List of Skills

Skill
Element
Cost
Effect
Heal
Light
5 MP
Minor HP recovery. 1 Ally
Holy Flare
Light
15 HP
Small dmg. 1 Foe
Teleport
Light
10 MP
Teleport Party
Glow
Light
10 MP
Small dmg. 1 Foe
Cure
Light
6 MP
Cure. 1 Ally
Glowdeus
Light
20 MP
Small dmg. 2 Foes
Devil Children Fire/Ice BookEdit
| Class | Element | Type | Level | HP | MP | Exp |
| --- | --- | --- | --- | --- | --- | --- |
| Common | Light | Holy | 4 | 55 | 25 | |

| ATK | DEF | MGC | RES | SPD | LCK |
| --- | --- | --- | --- | --- | --- |
| 7 | 5 | 7 | 5 | 9 | 8 |