Cybele
Talk

4
3,786pages on
this wiki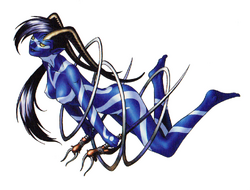 Cybele (キュベレ, Kyubere) is a recurring demon in the series.
Cybele is the deity of Phrygia that represents the idea of a mother goddess, similar to Gaia of the Greeks. Cybele is also associated with various natural elements, including wildlife and vegetation.
In Greece, Cybele was a protector of several city-states, one of which is Athens. Her most celebrated Greek rites and processions showed her as a foreign and exotic mystery-goddess. She arrives in a lion-drawn chariot to the accompaniment of wild music, wine, and a disorderly, ecstatic following. She was unique among deities worshiped by the Greeks as she had a transgendered, or eunuch, priesthood. Many of her Greek cults included rites to a divine, castrated, Phrygian shepherd-consort known as Attis. She is associated with mountains, town and city walls, fertile nature and wild animals, namely lions.
In Rome she was known as Magna Mater, meaning Great Mother. They would reinvent her as a Trojan goddess, which made her a goddess ancestor of the Roman people by way of the Trojan prince Aeneas. With Rome's eventual dominance over the Mediterranean, a Roman version of Cybele's cult would spread throughout the entire empire.
Appearances
Edit
Devil Summoner: Soul HackersEdit
"Phrygian goddess of the earth. She had a cult following even in Rome.
A goddess of the mountains of Phrygia, she is often depicted on a throne with lions on each side or on a chariot pulled by lions and known as a mistress of animals. Cybele was incorporated into Greek mythology as well, but was often seen as Rhea, who was another earth goddess, and eventually assimilated with her."
—Devil Summoner: Soul Hackers 3DS Compendium
Raidou Kuzunoha vs. King AbaddonEdit
"

The embodiment of Mother Earth, as well as her protector, it is revered in the mountains of Turkey. Cybele commands wild beasts, using lions in particular. She was later celebrated in Roman culture as well.

"
—Gouma-Den Devil Chart
Cybele appears as a boss in Chapter Three in the Great Summoner's Hall if Raidou is Law-aligned. She inflicts fatal injuries on High Pixie during the fight against Nagi, which leads to her death after Raidou beats her. She picks a fight with Raidou since she wishes to fight a strong summoner and says weak summoners are better off dead. She calls for reinforcements, which are Lamias during the battle and uses Shock Wave frequently.
Shin Megami Tensei: Devil SummonerEdit
| Race | Level | HP | MP | CP | NOA |
| --- | --- | --- | --- | --- | --- |
| Lady | 62 | 681 | 309 | 83 | 2 |
| Strength | Intelligence | Magic | Endurance | Agility | Luck |
| --- | --- | --- | --- | --- | --- |
| 24 | 13 | 17 | 18 | 12 | 10 |
| Personality | Phys Attack | Phys Hit | Base Defense | Avoid | Mgc Attack | Mgc Defense |
| --- | --- | --- | --- | --- | --- | --- |
| Prideful | 172 | 113 | 160 | 110 | 40 | 57 |
Devil Summoner: Soul HackersEdit
| Race | Level | HP | MP | CP | MAG Summon |
| --- | --- | --- | --- | --- | --- |
| Lady | 61 | 571 | 242 | 13 | 969 |

| Strength | Intelligence | Magic | Endurance | Agility | Luck |
| --- | --- | --- | --- | --- | --- |
| 25 | 14 | 17 | 18 | 12 | 10 |
| Personality | Phys Attack | Phys Hit | Mgc Attack | Mgc Hit | Base Defense | Avoid |
| --- | --- | --- | --- | --- | --- | --- |
| Calm | 172 | 94 | 154 | 44 | 174 | 96 |
| Resist | Void | Absorb | Reflect | Weak |
| --- | --- | --- | --- | --- |
| - | Fire, Expel | - | - | Ice |
Devil Summoner: Raidou Kuzunoha vs. King AbaddonEdit
As an AllyEdit
| Level | Order | HP | ST | MA | VI | LU | Conversation | Investigation |
| --- | --- | --- | --- | --- | --- | --- | --- | --- |
| 53 | Volt | 670 | 15 | 24 | 21 | 13 | Sexy Voice | Light Up / Inspect |
| Resists | Block | Absorbs | Weak | Frail |
| --- | --- | --- | --- | --- |
| - | Fire, Ice, Elec | - | Mind | Force |
List of Skills

Skill
Cost
Effect
Level
Shock Wave
34 MAG
Heavy Piercing multi-hit Elc dmg. Stun: Med
-
Marin Karin
16 MAG
Light Mind dmg to an area +Charm(Med)
54
Maziodyne
28 MAG
Heavy Elc dmg to an area. Stun: Long
55
Magic Boost
-
Reduce MAG usage for skills
Max Loyalty
As a BossEdit
| Level | Order | HP | ST | MA | VI | LU | Conversation | Investigation |
| --- | --- | --- | --- | --- | --- | --- | --- | --- |
| 24 | Volt | 2600 | 15 | 7 | 15 | 6 | - | - |
| Resists | Block | Absorbs | Weak | Frail |
| --- | --- | --- | --- | --- |
| Force | Gun, Death, Mind | Fire, Ice, Elec | - | - |
List of Skills

Skill
Cost
Effect
Level
Shock Wave
-
Heavy Piercing multi-hit Elc dmg. Stun: Med
-
Called for Reinforcements
-
Summons two Lamia.
-
Persona 3/FESEdit
| Inherit | Resists | Block | Absorbs | Reflects | Weak |
| --- | --- | --- | --- | --- | --- |
| Recovery | Fire, Electricity | Dark | - | - | - |
List of Skills

Skill
Cost
Effect
Level
Samarecarm
40 SP
Recover one ally from Unconscious with full HP.
Innate
Auto-Maraku
Passive
Begin the battle with Marakukaja cast on the team.
Innate
Myriad Arrows
19% HP
Hits 1-2 times for a moderate amount of Pierce damage with each hit.
Innate
Megidola
65 SP
Inflicts a moderate amount of Almighty damage to all enemies.
70
Bow Master
Passive
Inflict double damage with a Bow equipped.
73
Spell Master
Passive
Halves the SP cost for all magic skills.
75
Persona 4Edit
| Inherit | Resists | Block | Absorbs | Reflects | Weak |
| --- | --- | --- | --- | --- | --- |
| Recovery | Fire | Ice | - | - | Electricity |
List of Skills

Skill
Cost
Effect
Level
Mediarama
12 SP
Restores moderate HP. All allies.
Innate
Vicious Strike
18% HP
Large amount of Physical damage. All foes.
Innate
Recarm
8 SP
Revives with 50% HP. 1 ally.
Innate
Myriad Arrows
22% HP
Large amount of Physical damage 1-3x. All foes.
67
Samarecarm
18 SP
Revives with full HP. 1 ally.
68
Mediarahan
30 SP
Recovers all HP. All allies.
70
Devil Children Fire/Ice BookEdit
| Class | Element | Type | Exp | Level | HP | MP |
| --- | --- | --- | --- | --- | --- | --- |
| King | Earth | Evil | | 26 | 265 | 130 |

| ATK | DEF | MGC | RES | SPD | LCK |
| --- | --- | --- | --- | --- | --- |
| 24 | 22 | 22 | 25 | 21 | 19 |
List of Skills

Mahamagna
Marin Karin
Mudoon
Magnus
Double Hit
Marvelous Dance