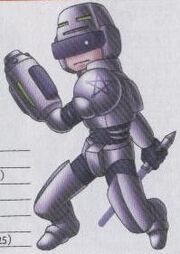 Cyborg Deka (サイボーグ デカ, Saibōgu Deka)? is a demon in the series.
Deka is the name assigned to a restorative biomedical research project that consisted of using cybernetic limbs as solution to the one lost by soldiers during war. Deka is also Japanese slang for police officers. Cyborg Deka's appearance could signify that it is a reference to the 1987 American film RoboCop, where a murdered police officer is rebuilt as a cybernetic law enforcer.
Appearances
Edit
Devil Children Black Book/Red Book (PS)Edit
Cyborg Deka is obtained after beating Professor O in the BattleNet.
Devil Children Black Book/Red Book (PS)Edit
| Class | Type | Race | Level | HP | MP | Exp |
| --- | --- | --- | --- | --- | --- | --- |
| Elite | Fire | Ogre | 23 | 258 | 101 | 255 |

| Attack | Guard | Magic | M Guard | Speed | Luck |
| --- | --- | --- | --- | --- | --- |
| 24 | 22 | 18 | 20 | 20 | 18 |